509 Kingpin XL Ignite Goggle
Step up to the ultimate in fog-free heated lens technology and protection from extreme cold with the 509 Kingpin XL Ignite Goggle. Simply push a button and the lightweight, strap-mounted rechargeable lithium-ion power pack quickly heats the entire inner lens surface to 104°F. Two heating modes and up to 5 hours of power at max temp keeps you clear all day.
The XL version of the 509 Sinister Kingpin Goggle features 20% more face foam for maximum warmth and coverage in extremely cold conditions.
509 KINGPIN XL IGNITE GOGGLE FEATURES
20% larger XL face foam
Ignite heated dual lens technology
Sonic welded, IP57 rated water & dust resistant power pack
Thermal conductive transparent ITO (Indium Tin Oxide) heated lens
Strap mounted rechargeable lightweight 7.4v, 2200mAh lithium-ion power pack
Lightweight rechargeable power pack & charging cable
Single button ignition: Auto 120 second mode & Always on mode
104°F maximum heating temperature
4-5 hour continuous max temp runtime
Audible & LED status indicators
Related Products
Quick View
{"id":5754722418851,"title":"509 Sinister X6 Ignite Lenses","handle":"509-sinister-x6-ignite-lenses","description":"\u003cp\u003eThe heated 509 Sinister X6 Ignite Lens is available in a range of weather-specific tints to fine-tune the performance of your Sinister X6 Ignite Goggle. Simply push a button and the lightweight, strap-mounted rechargeable lithium-ion power pack quickly heats the entire inner lens surface to 104°F. The system features two modes along with a continuous runtime rating of up to 5 hours at max temp for clear vision all day.\u003c\/p\u003e\n\u003cbr\u003e\n\u003ch3\u003e\u003cstrong\u003eFeatures\u003c\/strong\u003e\u003c\/h3\u003e\n\u003cul\u003e\n\u003cli\u003eIgnite heated dual lens technology\u003c\/li\u003e\n\u003cli\u003eThermal Conductive Transparent ITO (Indium Tin Oxide) heated lens\u003c\/li\u003e\n\u003cli\u003e104°F maximum heating temperature\u003c\/li\u003e\n\u003c\/ul\u003e\n\u003cbr\u003e\n\u003ch3\u003e\u003cstrong\u003eSpecs\u003c\/strong\u003e\u003c\/h3\u003e\n\u003cp\u003e\u003cstrong\u003eClear Lens\u003cspan\u003e \u003c\/span\u003e\u003c\/strong\u003e- Cloudy, Low Light\u003cbr\u003e\u003cstrong\u003eFire Mirror Light Rose HCS Tint\u003cspan\u003e \u003c\/span\u003e\u003c\/strong\u003e- Partly Cloudy, Low Light\u003cbr\u003e\u003cstrong\u003ePhotochromatic Clear to Blue Tint\u003cspan\u003e \u003c\/span\u003e\u003c\/strong\u003e- Partly Cloudy, Adjusting Tint\u003cbr\u003e\u003cstrong\u003ePhotochromatic Polarized Smoke Tint (PPS)\u003cspan\u003e \u003c\/span\u003e\u003c\/strong\u003e- Partly Cloudy, Adjusting Tint\u003cbr\u003e\u003cstrong\u003ePolarized Yellow Tint\u003cspan\u003e \u003c\/span\u003e\u003c\/strong\u003e- Partly Cloudy, Low Light\u003cbr\u003e\u003cstrong\u003eLight Rose Tint\u003cspan\u003e \u003c\/span\u003e\u003c\/strong\u003e- Partly Cloudy, Low Light\u003cbr\u003e\u003cstrong\u003eSapphire Mirror Light Blue Tint\u003cspan\u003e \u003c\/span\u003e\u003c\/strong\u003e- Partly Cloudy, Low Light\u003cbr\u003e\u003cstrong\u003eYellow Tint\u003cspan\u003e \u003c\/span\u003e\u003c\/strong\u003e- Cloudy, Low Light\u003c\/p\u003e","published_at":"2020-04-29T13:15:23-07:00","created_at":"2020-10-09T15:55:15-07:00","vendor":"509","type":"Lens","tags":["100-250","50-100","509","BRAND_509","colour-chrome-mirror-yellow-tint","colour-clear","colour-fire-mirror-light-rose-hcs-tint","colour-light-rose-hcs-tint","colour-photochromatic-clear-to-blue-tint","colour-photochromatic-polarized-smoke-tint","colour-polarized-smoke-tint","HEATED","ignite","ignite-ignite","lens","LENSES","MAR10","sale_sale","SNOW","W20\/21","W21\/22","W22\/23","W23\/24"],"price":8999,"price_min":8999,"price_max":17499,"available":true,"price_varies":true,"compare_at_price":0,"compare_at_price_min":0,"compare_at_price_max":0,"compare_at_price_varies":false,"variants":[{"id":36554638426275,"title":"Polarized Yellow Tint","option1":"Polarized Yellow Tint","option2":null,"option3":null,"sku":"F02001100-000-501","requires_shipping":true,"taxable":true,"featured_image":{"id":39701739077864,"product_id":5754722418851,"position":1,"created_at":"2022-11-24T17:28:44-08:00","updated_at":"2022-11-24T17:28:44-08:00","alt":null,"width":1200,"height":1200,"src":"\/\/www.revolutionpowersports.ca\/cdn\/shop\/products\/F02001100-000-501_a9d8f077-0bd6-4ccf-a079-80ffcb5453c0.jpg?v=1669339724","variant_ids":[36554638426275]},"available":false,"name":"509 Sinister X6 Ignite Lenses - Polarized Yellow Tint","public_title":"Polarized Yellow Tint","options":["Polarized Yellow Tint"],"price":12999,"weight":82,"compare_at_price":0,"inventory_management":"shopify","barcode":"843614132381","featured_media":{"alt":null,"id":32288166838504,"position":1,"preview_image":{"aspect_ratio":1.0,"height":1200,"width":1200,"src":"\/\/www.revolutionpowersports.ca\/cdn\/shop\/products\/F02001100-000-501_a9d8f077-0bd6-4ccf-a079-80ffcb5453c0.jpg?v=1669339724"}},"requires_selling_plan":false,"selling_plan_allocations":[]},{"id":42462015455464,"title":"Fire Mirror \/ Light Rose HCS Tint","option1":"Fire Mirror \/ Light Rose HCS Tint","option2":null,"option3":null,"sku":"F02001100-000-102","requires_shipping":true,"taxable":true,"featured_image":{"id":39701739110632,"product_id":5754722418851,"position":2,"created_at":"2022-11-24T17:28:44-08:00","updated_at":"2022-11-24T17:28:44-08:00","alt":null,"width":1200,"height":1200,"src":"\/\/www.revolutionpowersports.ca\/cdn\/shop\/products\/F02001100-000-102_b9b18f4f-acd1-4e07-8171-b899ae495e46.jpg?v=1669339724","variant_ids":[42462015455464]},"available":true,"name":"509 Sinister X6 Ignite Lenses - Fire Mirror \/ Light Rose HCS Tint","public_title":"Fire Mirror \/ Light Rose HCS Tint","options":["Fire Mirror \/ Light Rose HCS Tint"],"price":11499,"weight":82,"compare_at_price":0,"inventory_management":"shopify","barcode":"843614148528","featured_media":{"alt":null,"id":32288166871272,"position":2,"preview_image":{"aspect_ratio":1.0,"height":1200,"width":1200,"src":"\/\/www.revolutionpowersports.ca\/cdn\/shop\/products\/F02001100-000-102_b9b18f4f-acd1-4e07-8171-b899ae495e46.jpg?v=1669339724"}},"requires_selling_plan":false,"selling_plan_allocations":[]},{"id":36554638491811,"title":"Light Rose HCS Tint","option1":"Light Rose HCS Tint","option2":null,"option3":null,"sku":"F02001100-000-103","requires_shipping":true,"taxable":true,"featured_image":{"id":39701739143400,"product_id":5754722418851,"position":3,"created_at":"2022-11-24T17:28:44-08:00","updated_at":"2022-11-24T17:28:44-08:00","alt":null,"width":1200,"height":1200,"src":"\/\/www.revolutionpowersports.ca\/cdn\/shop\/products\/F02001100-000-103_26f33198-5227-4c13-8eb9-539b7f3ee977.jpg?v=1669339724","variant_ids":[36554638491811]},"available":true,"name":"509 Sinister X6 Ignite Lenses - Light Rose HCS Tint","public_title":"Light Rose HCS Tint","options":["Light Rose HCS Tint"],"price":9999,"weight":82,"compare_at_price":0,"inventory_management":"shopify","barcode":"843614148535","featured_media":{"alt":null,"id":32288166904040,"position":3,"preview_image":{"aspect_ratio":1.0,"height":1200,"width":1200,"src":"\/\/www.revolutionpowersports.ca\/cdn\/shop\/products\/F02001100-000-103_26f33198-5227-4c13-8eb9-539b7f3ee977.jpg?v=1669339724"}},"requires_selling_plan":false,"selling_plan_allocations":[]},{"id":42462015488232,"title":"Sapphire Mirror \/ Light Blue Tint","option1":"Sapphire Mirror \/ Light Blue Tint","option2":null,"option3":null,"sku":"F02001100-000-201","requires_shipping":true,"taxable":true,"featured_image":{"id":39701739176168,"product_id":5754722418851,"position":4,"created_at":"2022-11-24T17:28:44-08:00","updated_at":"2022-11-24T17:28:44-08:00","alt":null,"width":1200,"height":1200,"src":"\/\/www.revolutionpowersports.ca\/cdn\/shop\/products\/F02001100-000-201_789c00e7-d9af-4e20-9582-80432a5f0114.jpg?v=1669339724","variant_ids":[42462015488232]},"available":false,"name":"509 Sinister X6 Ignite Lenses - Sapphire Mirror \/ Light Blue Tint","public_title":"Sapphire Mirror \/ Light Blue Tint","options":["Sapphire Mirror \/ Light Blue Tint"],"price":11499,"weight":82,"compare_at_price":0,"inventory_management":"shopify","barcode":"","featured_media":{"alt":null,"id":32288166936808,"position":4,"preview_image":{"aspect_ratio":1.0,"height":1200,"width":1200,"src":"\/\/www.revolutionpowersports.ca\/cdn\/shop\/products\/F02001100-000-201_789c00e7-d9af-4e20-9582-80432a5f0114.jpg?v=1669339724"}},"requires_selling_plan":false,"selling_plan_allocations":[]},{"id":42462015521000,"title":"Clear","option1":"Clear","option2":null,"option3":null,"sku":"F02001100-000-999","requires_shipping":true,"taxable":true,"featured_image":{"id":39701739208936,"product_id":5754722418851,"position":5,"created_at":"2022-11-24T17:28:44-08:00","updated_at":"2022-11-24T17:28:44-08:00","alt":null,"width":1080,"height":1080,"src":"\/\/www.revolutionpowersports.ca\/cdn\/shop\/products\/F02001100-000-999_aa10d3a6-3d0b-4678-ad1d-87998d6abf68.jpg?v=1669339724","variant_ids":[42462015521000]},"available":true,"name":"509 Sinister X6 Ignite Lenses - Clear","public_title":"Clear","options":["Clear"],"price":9999,"weight":82,"compare_at_price":0,"inventory_management":"shopify","barcode":"843614132398","featured_media":{"alt":null,"id":32288166969576,"position":5,"preview_image":{"aspect_ratio":1.0,"height":1080,"width":1080,"src":"\/\/www.revolutionpowersports.ca\/cdn\/shop\/products\/F02001100-000-999_aa10d3a6-3d0b-4678-ad1d-87998d6abf68.jpg?v=1669339724"}},"requires_selling_plan":false,"selling_plan_allocations":[]},{"id":42462015553768,"title":"Photochromatic - Clear to Blue Tint","option1":"Photochromatic - Clear to Blue Tint","option2":null,"option3":null,"sku":"F02001100-000-801","requires_shipping":true,"taxable":true,"featured_image":{"id":39701739241704,"product_id":5754722418851,"position":6,"created_at":"2022-11-24T17:28:44-08:00","updated_at":"2022-11-24T17:28:44-08:00","alt":null,"width":1200,"height":1200,"src":"\/\/www.revolutionpowersports.ca\/cdn\/shop\/products\/F02001100-000-801_1e8aa9d6-56ee-4fb3-9ace-c19583f60a9f.jpg?v=1669339724","variant_ids":[42462015553768]},"available":true,"name":"509 Sinister X6 Ignite Lenses - Photochromatic - Clear to Blue Tint","public_title":"Photochromatic - Clear to Blue Tint","options":["Photochromatic - Clear to Blue Tint"],"price":15999,"weight":82,"compare_at_price":0,"inventory_management":"shopify","barcode":"843614132374","featured_media":{"alt":null,"id":32288167002344,"position":6,"preview_image":{"aspect_ratio":1.0,"height":1200,"width":1200,"src":"\/\/www.revolutionpowersports.ca\/cdn\/shop\/products\/F02001100-000-801_1e8aa9d6-56ee-4fb3-9ace-c19583f60a9f.jpg?v=1669339724"}},"requires_selling_plan":false,"selling_plan_allocations":[]},{"id":36554638622883,"title":"Yellow Tint","option1":"Yellow Tint","option2":null,"option3":null,"sku":"F02001100-000-502","requires_shipping":true,"taxable":true,"featured_image":{"id":39701739274472,"product_id":5754722418851,"position":7,"created_at":"2022-11-24T17:28:44-08:00","updated_at":"2022-11-24T17:28:44-08:00","alt":null,"width":1200,"height":1200,"src":"\/\/www.revolutionpowersports.ca\/cdn\/shop\/products\/F02001100-000-502_6f2bcf61-e7fc-4be6-9da4-bc90cfb3f6dd.jpg?v=1669339724","variant_ids":[36554638622883]},"available":false,"name":"509 Sinister X6 Ignite Lenses - Yellow Tint","public_title":"Yellow Tint","options":["Yellow Tint"],"price":9999,"weight":82,"compare_at_price":0,"inventory_management":"shopify","barcode":"843614132404","featured_media":{"alt":null,"id":32288167035112,"position":7,"preview_image":{"aspect_ratio":1.0,"height":1200,"width":1200,"src":"\/\/www.revolutionpowersports.ca\/cdn\/shop\/products\/F02001100-000-502_6f2bcf61-e7fc-4be6-9da4-bc90cfb3f6dd.jpg?v=1669339724"}},"requires_selling_plan":false,"selling_plan_allocations":[]},{"id":42462015586536,"title":"Amber HCS Tint","option1":"Amber HCS Tint","option2":null,"option3":null,"sku":"F02001100-000-901","requires_shipping":true,"taxable":true,"featured_image":{"id":39701739372776,"product_id":5754722418851,"position":10,"created_at":"2022-11-24T17:28:44-08:00","updated_at":"2022-11-24T17:28:44-08:00","alt":null,"width":1200,"height":1200,"src":"\/\/www.revolutionpowersports.ca\/cdn\/shop\/products\/F02001100-000-901_32bd79d4-53f9-4502-a249-98b1282617d8.jpg?v=1669339724","variant_ids":[42462015586536]},"available":false,"name":"509 Sinister X6 Ignite Lenses - Amber HCS Tint","public_title":"Amber HCS Tint","options":["Amber HCS Tint"],"price":8999,"weight":82,"compare_at_price":null,"inventory_management":"shopify","barcode":"843614157193","featured_media":{"alt":null,"id":32288167133416,"position":10,"preview_image":{"aspect_ratio":1.0,"height":1200,"width":1200,"src":"\/\/www.revolutionpowersports.ca\/cdn\/shop\/products\/F02001100-000-901_32bd79d4-53f9-4502-a249-98b1282617d8.jpg?v=1669339724"}},"requires_selling_plan":false,"selling_plan_allocations":[]},{"id":42462015619304,"title":"Yellow HCS Tint","option1":"Yellow HCS Tint","option2":null,"option3":null,"sku":"F02001100-000-506","requires_shipping":true,"taxable":true,"featured_image":null,"available":false,"name":"509 Sinister X6 Ignite Lenses - Yellow HCS Tint","public_title":"Yellow HCS Tint","options":["Yellow HCS Tint"],"price":8999,"weight":82,"compare_at_price":null,"inventory_management":"shopify","barcode":"843614157308","requires_selling_plan":false,"selling_plan_allocations":[]},{"id":42462015652072,"title":"Polarized Yellow HCS Tint","option1":"Polarized Yellow HCS Tint","option2":null,"option3":null,"sku":"F02001100-000-505","requires_shipping":true,"taxable":true,"featured_image":{"id":39701739536616,"product_id":5754722418851,"position":15,"created_at":"2022-11-24T17:28:44-08:00","updated_at":"2022-11-24T17:28:44-08:00","alt":null,"width":1200,"height":1200,"src":"\/\/www.revolutionpowersports.ca\/cdn\/shop\/products\/F02001200-000-505_a8b68805-35ca-452f-8dd2-55f8abc5aa73.jpg?v=1669339724","variant_ids":[42462015652072]},"available":false,"name":"509 Sinister X6 Ignite Lenses - Polarized Yellow HCS Tint","public_title":"Polarized Yellow HCS Tint","options":["Polarized Yellow HCS Tint"],"price":11699,"weight":82,"compare_at_price":null,"inventory_management":"shopify","barcode":"843614157278","featured_media":{"alt":null,"id":32288167297256,"position":15,"preview_image":{"aspect_ratio":1.0,"height":1200,"width":1200,"src":"\/\/www.revolutionpowersports.ca\/cdn\/shop\/products\/F02001200-000-505_a8b68805-35ca-452f-8dd2-55f8abc5aa73.jpg?v=1669339724"}},"requires_selling_plan":false,"selling_plan_allocations":[]},{"id":42462015684840,"title":"Photochromatic - Yellow to Amber Tint","option1":"Photochromatic - Yellow to Amber Tint","option2":null,"option3":null,"sku":"F02001100-000-504","requires_shipping":true,"taxable":true,"featured_image":{"id":39701739503848,"product_id":5754722418851,"position":14,"created_at":"2022-11-24T17:28:44-08:00","updated_at":"2022-11-24T17:28:44-08:00","alt":null,"width":1080,"height":1080,"src":"\/\/www.revolutionpowersports.ca\/cdn\/shop\/products\/F02001200-000-504_7b1a5a63-68cd-43da-8b27-650674514897.jpg?v=1669339724","variant_ids":[42462015684840]},"available":false,"name":"509 Sinister X6 Ignite Lenses - Photochromatic - Yellow to Amber Tint","public_title":"Photochromatic - Yellow to Amber Tint","options":["Photochromatic - Yellow to Amber Tint"],"price":15299,"weight":82,"compare_at_price":null,"inventory_management":"shopify","barcode":"843614157254","featured_media":{"alt":null,"id":32288167264488,"position":14,"preview_image":{"aspect_ratio":1.0,"height":1080,"width":1080,"src":"\/\/www.revolutionpowersports.ca\/cdn\/shop\/products\/F02001200-000-504_7b1a5a63-68cd-43da-8b27-650674514897.jpg?v=1669339724"}},"requires_selling_plan":false,"selling_plan_allocations":[]},{"id":42462015717608,"title":"Chrome Mirror Yellow Tint","option1":"Chrome Mirror Yellow Tint","option2":null,"option3":null,"sku":"F02001100-000-503","requires_shipping":true,"taxable":true,"featured_image":{"id":39701739471080,"product_id":5754722418851,"position":13,"created_at":"2022-11-24T17:28:44-08:00","updated_at":"2022-11-24T17:28:44-08:00","alt":null,"width":1080,"height":1080,"src":"\/\/www.revolutionpowersports.ca\/cdn\/shop\/products\/F02001200-000-503_52677e80-4a87-41e9-bb10-57c9e96acd23.jpg?v=1669339724","variant_ids":[42462015717608]},"available":false,"name":"509 Sinister X6 Ignite Lenses - Chrome Mirror Yellow Tint","public_title":"Chrome Mirror Yellow Tint","options":["Chrome Mirror Yellow Tint"],"price":10799,"weight":82,"compare_at_price":null,"inventory_management":"shopify","barcode":"843614157209","featured_media":{"alt":null,"id":32288167231720,"position":13,"preview_image":{"aspect_ratio":1.0,"height":1080,"width":1080,"src":"\/\/www.revolutionpowersports.ca\/cdn\/shop\/products\/F02001200-000-503_52677e80-4a87-41e9-bb10-57c9e96acd23.jpg?v=1669339724"}},"requires_selling_plan":false,"selling_plan_allocations":[]},{"id":42462015750376,"title":"El Dorado Mirror Sunset Tint","option1":"El Dorado Mirror Sunset Tint","option2":null,"option3":null,"sku":"F02001100-000-401","requires_shipping":true,"taxable":true,"featured_image":null,"available":false,"name":"509 Sinister X6 Ignite Lenses - El Dorado Mirror Sunset Tint","public_title":"El Dorado Mirror Sunset Tint","options":["El Dorado Mirror Sunset Tint"],"price":10799,"weight":82,"compare_at_price":null,"inventory_management":"shopify","barcode":"843614157216","requires_selling_plan":false,"selling_plan_allocations":[]},{"id":42462015783144,"title":"Light Blue HCS Tint","option1":"Light Blue HCS Tint","option2":null,"option3":null,"sku":"F02001100-000-203","requires_shipping":true,"taxable":true,"featured_image":null,"available":false,"name":"509 Sinister X6 Ignite Lenses - Light Blue HCS Tint","public_title":"Light Blue HCS Tint","options":["Light Blue HCS Tint"],"price":8999,"weight":82,"compare_at_price":null,"inventory_management":"shopify","barcode":"843614165334","requires_selling_plan":false,"selling_plan_allocations":[]},{"id":42462015815912,"title":"Fire Mirror Photochromatic Clear to Blue Tint","option1":"Fire Mirror Photochromatic Clear to Blue Tint","option2":null,"option3":null,"sku":"F02001100-000-202","requires_shipping":true,"taxable":true,"featured_image":null,"available":false,"name":"509 Sinister X6 Ignite Lenses - Fire Mirror Photochromatic Clear to Blue Tint","public_title":"Fire Mirror Photochromatic Clear to Blue Tint","options":["Fire Mirror Photochromatic Clear to Blue Tint"],"price":15299,"weight":82,"compare_at_price":null,"inventory_management":"shopify","barcode":"843614165327","requires_selling_plan":false,"selling_plan_allocations":[]},{"id":42462015848680,"title":"Fire Mirror Clear Tint","option1":"Fire Mirror Clear Tint","option2":null,"option3":null,"sku":"F02001100-000-104","requires_shipping":true,"taxable":true,"featured_image":{"id":39701739438312,"product_id":5754722418851,"position":12,"created_at":"2022-11-24T17:28:44-08:00","updated_at":"2022-11-24T17:28:44-08:00","alt":null,"width":1200,"height":1200,"src":"\/\/www.revolutionpowersports.ca\/cdn\/shop\/products\/F02001200-000-104_77e71d1a-bc29-4180-84e4-cca631758686.jpg?v=1669339724","variant_ids":[42462015848680]},"available":false,"name":"509 Sinister X6 Ignite Lenses - Fire Mirror Clear Tint","public_title":"Fire Mirror Clear Tint","options":["Fire Mirror Clear Tint"],"price":10799,"weight":82,"compare_at_price":null,"inventory_management":"shopify","barcode":"843614157223","featured_media":{"alt":null,"id":32288167198952,"position":12,"preview_image":{"aspect_ratio":1.0,"height":1200,"width":1200,"src":"\/\/www.revolutionpowersports.ca\/cdn\/shop\/products\/F02001200-000-104_77e71d1a-bc29-4180-84e4-cca631758686.jpg?v=1669339724"}},"requires_selling_plan":false,"selling_plan_allocations":[]},{"id":42462015881448,"title":"Smoke Tint","option1":"Smoke Tint","option2":null,"option3":null,"sku":"F02001100-000-004","requires_shipping":true,"taxable":true,"featured_image":null,"available":false,"name":"509 Sinister X6 Ignite Lenses - Smoke Tint","public_title":"Smoke Tint","options":["Smoke Tint"],"price":8999,"weight":82,"compare_at_price":null,"inventory_management":"shopify","barcode":"843614157292","requires_selling_plan":false,"selling_plan_allocations":[]},{"id":42462015914216,"title":"Polarized Smoke Tint","option1":"Polarized Smoke Tint","option2":null,"option3":null,"sku":"F02001100-000-003","requires_shipping":true,"taxable":true,"featured_image":{"id":39701739405544,"product_id":5754722418851,"position":11,"created_at":"2022-11-24T17:28:44-08:00","updated_at":"2022-11-24T17:28:44-08:00","alt":null,"width":1200,"height":1200,"src":"\/\/www.revolutionpowersports.ca\/cdn\/shop\/products\/F02001200-000-003_ae860b96-ea8e-4df1-892c-9062f9531ec2.jpg?v=1669339724","variant_ids":[42462015914216]},"available":false,"name":"509 Sinister X6 Ignite Lenses - Polarized Smoke Tint","public_title":"Polarized Smoke Tint","options":["Polarized Smoke Tint"],"price":11699,"weight":82,"compare_at_price":null,"inventory_management":"shopify","barcode":"843614157261","featured_media":{"alt":null,"id":32288167166184,"position":11,"preview_image":{"aspect_ratio":1.0,"height":1200,"width":1200,"src":"\/\/www.revolutionpowersports.ca\/cdn\/shop\/products\/F02001200-000-003_ae860b96-ea8e-4df1-892c-9062f9531ec2.jpg?v=1669339724"}},"requires_selling_plan":false,"selling_plan_allocations":[]},{"id":42462015946984,"title":"Sapphire Mirror Smoke Tint","option1":"Sapphire Mirror Smoke Tint","option2":null,"option3":null,"sku":"F02001100-000-002","requires_shipping":true,"taxable":true,"featured_image":{"id":39701739340008,"product_id":5754722418851,"position":9,"created_at":"2022-11-24T17:28:44-08:00","updated_at":"2022-11-24T17:28:44-08:00","alt":null,"width":1200,"height":1200,"src":"\/\/www.revolutionpowersports.ca\/cdn\/shop\/products\/F02001100-000-002_0951807c-1e4f-413d-8224-005c479f9e5f.jpg?v=1669339724","variant_ids":[42462015946984]},"available":false,"name":"509 Sinister X6 Ignite Lenses - Sapphire Mirror Smoke Tint","public_title":"Sapphire Mirror Smoke Tint","options":["Sapphire Mirror Smoke Tint"],"price":10349,"weight":82,"compare_at_price":null,"inventory_management":"shopify","barcode":"843614157285","featured_media":{"alt":null,"id":32288167100648,"position":9,"preview_image":{"aspect_ratio":1.0,"height":1200,"width":1200,"src":"\/\/www.revolutionpowersports.ca\/cdn\/shop\/products\/F02001100-000-002_0951807c-1e4f-413d-8224-005c479f9e5f.jpg?v=1669339724"}},"requires_selling_plan":false,"selling_plan_allocations":[]},{"id":42462015979752,"title":"Photochromatic - Polarized Smoke Tint","option1":"Photochromatic - Polarized Smoke Tint","option2":null,"option3":null,"sku":"F02001100-000-001","requires_shipping":true,"taxable":true,"featured_image":{"id":39701739307240,"product_id":5754722418851,"position":8,"created_at":"2022-11-24T17:28:44-08:00","updated_at":"2022-11-24T17:28:44-08:00","alt":null,"width":1200,"height":1200,"src":"\/\/www.revolutionpowersports.ca\/cdn\/shop\/products\/F02001100-000-001_50877165-896d-41b7-8ccf-a7f38c53990c.jpg?v=1669339724","variant_ids":[42462015979752]},"available":true,"name":"509 Sinister X6 Ignite Lenses - Photochromatic - Polarized Smoke Tint","public_title":"Photochromatic - Polarized Smoke Tint","options":["Photochromatic - Polarized Smoke Tint"],"price":17499,"weight":82,"compare_at_price":0,"inventory_management":"shopify","barcode":"843614132367","featured_media":{"alt":null,"id":32288167067880,"position":8,"preview_image":{"aspect_ratio":1.0,"height":1200,"width":1200,"src":"\/\/www.revolutionpowersports.ca\/cdn\/shop\/products\/F02001100-000-001_50877165-896d-41b7-8ccf-a7f38c53990c.jpg?v=1669339724"}},"requires_selling_plan":false,"selling_plan_allocations":[]}],"images":["\/\/www.revolutionpowersports.ca\/cdn\/shop\/products\/F02001100-000-501_a9d8f077-0bd6-4ccf-a079-80ffcb5453c0.jpg?v=1669339724","\/\/www.revolutionpowersports.ca\/cdn\/shop\/products\/F02001100-000-102_b9b18f4f-acd1-4e07-8171-b899ae495e46.jpg?v=1669339724","\/\/www.revolutionpowersports.ca\/cdn\/shop\/products\/F02001100-000-103_26f33198-5227-4c13-8eb9-539b7f3ee977.jpg?v=1669339724","\/\/www.revolutionpowersports.ca\/cdn\/shop\/products\/F02001100-000-201_789c00e7-d9af-4e20-9582-80432a5f0114.jpg?v=1669339724","\/\/www.revolutionpowersports.ca\/cdn\/shop\/products\/F02001100-000-999_aa10d3a6-3d0b-4678-ad1d-87998d6abf68.jpg?v=1669339724","\/\/www.revolutionpowersports.ca\/cdn\/shop\/products\/F02001100-000-801_1e8aa9d6-56ee-4fb3-9ace-c19583f60a9f.jpg?v=1669339724","\/\/www.revolutionpowersports.ca\/cdn\/shop\/products\/F02001100-000-502_6f2bcf61-e7fc-4be6-9da4-bc90cfb3f6dd.jpg?v=1669339724","\/\/www.revolutionpowersports.ca\/cdn\/shop\/products\/F02001100-000-001_50877165-896d-41b7-8ccf-a7f38c53990c.jpg?v=1669339724","\/\/www.revolutionpowersports.ca\/cdn\/shop\/products\/F02001100-000-002_0951807c-1e4f-413d-8224-005c479f9e5f.jpg?v=1669339724","\/\/www.revolutionpowersports.ca\/cdn\/shop\/products\/F02001100-000-901_32bd79d4-53f9-4502-a249-98b1282617d8.jpg?v=1669339724","\/\/www.revolutionpowersports.ca\/cdn\/shop\/products\/F02001200-000-003_ae860b96-ea8e-4df1-892c-9062f9531ec2.jpg?v=1669339724","\/\/www.revolutionpowersports.ca\/cdn\/shop\/products\/F02001200-000-104_77e71d1a-bc29-4180-84e4-cca631758686.jpg?v=1669339724","\/\/www.revolutionpowersports.ca\/cdn\/shop\/products\/F02001200-000-503_52677e80-4a87-41e9-bb10-57c9e96acd23.jpg?v=1669339724","\/\/www.revolutionpowersports.ca\/cdn\/shop\/products\/F02001200-000-504_7b1a5a63-68cd-43da-8b27-650674514897.jpg?v=1669339724","\/\/www.revolutionpowersports.ca\/cdn\/shop\/products\/F02001200-000-505_a8b68805-35ca-452f-8dd2-55f8abc5aa73.jpg?v=1669339724"],"featured_image":"\/\/www.revolutionpowersports.ca\/cdn\/shop\/products\/F02001100-000-501_a9d8f077-0bd6-4ccf-a079-80ffcb5453c0.jpg?v=1669339724","options":["Photochromatic - Polarized Smoke Tint"],"media":[{"alt":null,"id":32288166838504,"position":1,"preview_image":{"aspect_ratio":1.0,"height":1200,"width":1200,"src":"\/\/www.revolutionpowersports.ca\/cdn\/shop\/products\/F02001100-000-501_a9d8f077-0bd6-4ccf-a079-80ffcb5453c0.jpg?v=1669339724"},"aspect_ratio":1.0,"height":1200,"media_type":"image","src":"\/\/www.revolutionpowersports.ca\/cdn\/shop\/products\/F02001100-000-501_a9d8f077-0bd6-4ccf-a079-80ffcb5453c0.jpg?v=1669339724","width":1200},{"alt":null,"id":32288166871272,"position":2,"preview_image":{"aspect_ratio":1.0,"height":1200,"width":1200,"src":"\/\/www.revolutionpowersports.ca\/cdn\/shop\/products\/F02001100-000-102_b9b18f4f-acd1-4e07-8171-b899ae495e46.jpg?v=1669339724"},"aspect_ratio":1.0,"height":1200,"media_type":"image","src":"\/\/www.revolutionpowersports.ca\/cdn\/shop\/products\/F02001100-000-102_b9b18f4f-acd1-4e07-8171-b899ae495e46.jpg?v=1669339724","width":1200},{"alt":null,"id":32288166904040,"position":3,"preview_image":{"aspect_ratio":1.0,"height":1200,"width":1200,"src":"\/\/www.revolutionpowersports.ca\/cdn\/shop\/products\/F02001100-000-103_26f33198-5227-4c13-8eb9-539b7f3ee977.jpg?v=1669339724"},"aspect_ratio":1.0,"height":1200,"media_type":"image","src":"\/\/www.revolutionpowersports.ca\/cdn\/shop\/products\/F02001100-000-103_26f33198-5227-4c13-8eb9-539b7f3ee977.jpg?v=1669339724","width":1200},{"alt":null,"id":32288166936808,"position":4,"preview_image":{"aspect_ratio":1.0,"height":1200,"width":1200,"src":"\/\/www.revolutionpowersports.ca\/cdn\/shop\/products\/F02001100-000-201_789c00e7-d9af-4e20-9582-80432a5f0114.jpg?v=1669339724"},"aspect_ratio":1.0,"height":1200,"media_type":"image","src":"\/\/www.revolutionpowersports.ca\/cdn\/shop\/products\/F02001100-000-201_789c00e7-d9af-4e20-9582-80432a5f0114.jpg?v=1669339724","width":1200},{"alt":null,"id":32288166969576,"position":5,"preview_image":{"aspect_ratio":1.0,"height":1080,"width":1080,"src":"\/\/www.revolutionpowersports.ca\/cdn\/shop\/products\/F02001100-000-999_aa10d3a6-3d0b-4678-ad1d-87998d6abf68.jpg?v=1669339724"},"aspect_ratio":1.0,"height":1080,"media_type":"image","src":"\/\/www.revolutionpowersports.ca\/cdn\/shop\/products\/F02001100-000-999_aa10d3a6-3d0b-4678-ad1d-87998d6abf68.jpg?v=1669339724","width":1080},{"alt":null,"id":32288167002344,"position":6,"preview_image":{"aspect_ratio":1.0,"height":1200,"width":1200,"src":"\/\/www.revolutionpowersports.ca\/cdn\/shop\/products\/F02001100-000-801_1e8aa9d6-56ee-4fb3-9ace-c19583f60a9f.jpg?v=1669339724"},"aspect_ratio":1.0,"height":1200,"media_type":"image","src":"\/\/www.revolutionpowersports.ca\/cdn\/shop\/products\/F02001100-000-801_1e8aa9d6-56ee-4fb3-9ace-c19583f60a9f.jpg?v=1669339724","width":1200},{"alt":null,"id":32288167035112,"position":7,"preview_image":{"aspect_ratio":1.0,"height":1200,"width":1200,"src":"\/\/www.revolutionpowersports.ca\/cdn\/shop\/products\/F02001100-000-502_6f2bcf61-e7fc-4be6-9da4-bc90cfb3f6dd.jpg?v=1669339724"},"aspect_ratio":1.0,"height":1200,"media_type":"image","src":"\/\/www.revolutionpowersports.ca\/cdn\/shop\/products\/F02001100-000-502_6f2bcf61-e7fc-4be6-9da4-bc90cfb3f6dd.jpg?v=1669339724","width":1200},{"alt":null,"id":32288167067880,"position":8,"preview_image":{"aspect_ratio":1.0,"height":1200,"width":1200,"src":"\/\/www.revolutionpowersports.ca\/cdn\/shop\/products\/F02001100-000-001_50877165-896d-41b7-8ccf-a7f38c53990c.jpg?v=1669339724"},"aspect_ratio":1.0,"height":1200,"media_type":"image","src":"\/\/www.revolutionpowersports.ca\/cdn\/shop\/products\/F02001100-000-001_50877165-896d-41b7-8ccf-a7f38c53990c.jpg?v=1669339724","width":1200},{"alt":null,"id":32288167100648,"position":9,"preview_image":{"aspect_ratio":1.0,"height":1200,"width":1200,"src":"\/\/www.revolutionpowersports.ca\/cdn\/shop\/products\/F02001100-000-002_0951807c-1e4f-413d-8224-005c479f9e5f.jpg?v=1669339724"},"aspect_ratio":1.0,"height":1200,"media_type":"image","src":"\/\/www.revolutionpowersports.ca\/cdn\/shop\/products\/F02001100-000-002_0951807c-1e4f-413d-8224-005c479f9e5f.jpg?v=1669339724","width":1200},{"alt":null,"id":32288167133416,"position":10,"preview_image":{"aspect_ratio":1.0,"height":1200,"width":1200,"src":"\/\/www.revolutionpowersports.ca\/cdn\/shop\/products\/F02001100-000-901_32bd79d4-53f9-4502-a249-98b1282617d8.jpg?v=1669339724"},"aspect_ratio":1.0,"height":1200,"media_type":"image","src":"\/\/www.revolutionpowersports.ca\/cdn\/shop\/products\/F02001100-000-901_32bd79d4-53f9-4502-a249-98b1282617d8.jpg?v=1669339724","width":1200},{"alt":null,"id":32288167166184,"position":11,"preview_image":{"aspect_ratio":1.0,"height":1200,"width":1200,"src":"\/\/www.revolutionpowersports.ca\/cdn\/shop\/products\/F02001200-000-003_ae860b96-ea8e-4df1-892c-9062f9531ec2.jpg?v=1669339724"},"aspect_ratio":1.0,"height":1200,"media_type":"image","src":"\/\/www.revolutionpowersports.ca\/cdn\/shop\/products\/F02001200-000-003_ae860b96-ea8e-4df1-892c-9062f9531ec2.jpg?v=1669339724","width":1200},{"alt":null,"id":32288167198952,"position":12,"preview_image":{"aspect_ratio":1.0,"height":1200,"width":1200,"src":"\/\/www.revolutionpowersports.ca\/cdn\/shop\/products\/F02001200-000-104_77e71d1a-bc29-4180-84e4-cca631758686.jpg?v=1669339724"},"aspect_ratio":1.0,"height":1200,"media_type":"image","src":"\/\/www.revolutionpowersports.ca\/cdn\/shop\/products\/F02001200-000-104_77e71d1a-bc29-4180-84e4-cca631758686.jpg?v=1669339724","width":1200},{"alt":null,"id":32288167231720,"position":13,"preview_image":{"aspect_ratio":1.0,"height":1080,"width":1080,"src":"\/\/www.revolutionpowersports.ca\/cdn\/shop\/products\/F02001200-000-503_52677e80-4a87-41e9-bb10-57c9e96acd23.jpg?v=1669339724"},"aspect_ratio":1.0,"height":1080,"media_type":"image","src":"\/\/www.revolutionpowersports.ca\/cdn\/shop\/products\/F02001200-000-503_52677e80-4a87-41e9-bb10-57c9e96acd23.jpg?v=1669339724","width":1080},{"alt":null,"id":32288167264488,"position":14,"preview_image":{"aspect_ratio":1.0,"height":1080,"width":1080,"src":"\/\/www.revolutionpowersports.ca\/cdn\/shop\/products\/F02001200-000-504_7b1a5a63-68cd-43da-8b27-650674514897.jpg?v=1669339724"},"aspect_ratio":1.0,"height":1080,"media_type":"image","src":"\/\/www.revolutionpowersports.ca\/cdn\/shop\/products\/F02001200-000-504_7b1a5a63-68cd-43da-8b27-650674514897.jpg?v=1669339724","width":1080},{"alt":null,"id":32288167297256,"position":15,"preview_image":{"aspect_ratio":1.0,"height":1200,"width":1200,"src":"\/\/www.revolutionpowersports.ca\/cdn\/shop\/products\/F02001200-000-505_a8b68805-35ca-452f-8dd2-55f8abc5aa73.jpg?v=1669339724"},"aspect_ratio":1.0,"height":1200,"media_type":"image","src":"\/\/www.revolutionpowersports.ca\/cdn\/shop\/products\/F02001200-000-505_a8b68805-35ca-452f-8dd2-55f8abc5aa73.jpg?v=1669339724","width":1200}],"requires_selling_plan":false,"selling_plan_groups":[],"content":"\u003cp\u003eThe heated 509 Sinister X6 Ignite Lens is available in a range of weather-specific tints to fine-tune the performance of your Sinister X6 Ignite Goggle. Simply push a button and the lightweight, strap-mounted rechargeable lithium-ion power pack quickly heats the entire inner lens surface to 104°F. The system features two modes along with a continuous runtime rating of up to 5 hours at max temp for clear vision all day.\u003c\/p\u003e\n\u003cbr\u003e\n\u003ch3\u003e\u003cstrong\u003eFeatures\u003c\/strong\u003e\u003c\/h3\u003e\n\u003cul\u003e\n\u003cli\u003eIgnite heated dual lens technology\u003c\/li\u003e\n\u003cli\u003eThermal Conductive Transparent ITO (Indium Tin Oxide) heated lens\u003c\/li\u003e\n\u003cli\u003e104°F maximum heating temperature\u003c\/li\u003e\n\u003c\/ul\u003e\n\u003cbr\u003e\n\u003ch3\u003e\u003cstrong\u003eSpecs\u003c\/strong\u003e\u003c\/h3\u003e\n\u003cp\u003e\u003cstrong\u003eClear Lens\u003cspan\u003e \u003c\/span\u003e\u003c\/strong\u003e- Cloudy, Low Light\u003cbr\u003e\u003cstrong\u003eFire Mirror Light Rose HCS Tint\u003cspan\u003e \u003c\/span\u003e\u003c\/strong\u003e- Partly Cloudy, Low Light\u003cbr\u003e\u003cstrong\u003ePhotochromatic Clear to Blue Tint\u003cspan\u003e \u003c\/span\u003e\u003c\/strong\u003e- Partly Cloudy, Adjusting Tint\u003cbr\u003e\u003cstrong\u003ePhotochromatic Polarized Smoke Tint (PPS)\u003cspan\u003e \u003c\/span\u003e\u003c\/strong\u003e- Partly Cloudy, Adjusting Tint\u003cbr\u003e\u003cstrong\u003ePolarized Yellow Tint\u003cspan\u003e \u003c\/span\u003e\u003c\/strong\u003e- Partly Cloudy, Low Light\u003cbr\u003e\u003cstrong\u003eLight Rose Tint\u003cspan\u003e \u003c\/span\u003e\u003c\/strong\u003e- Partly Cloudy, Low Light\u003cbr\u003e\u003cstrong\u003eSapphire Mirror Light Blue Tint\u003cspan\u003e \u003c\/span\u003e\u003c\/strong\u003e- Partly Cloudy, Low Light\u003cbr\u003e\u003cstrong\u003eYellow Tint\u003cspan\u003e \u003c\/span\u003e\u003c\/strong\u003e- Cloudy, Low Light\u003c\/p\u003e"}
Quick View
{"id":5754707411107,"title":"509 Youth Ripper 2 Goggle","handle":"509-ripper-2-youth-goggle","description":"\u003cp\u003eAttention to detail is what sets the 509 Ripper 2.0 Youth Snowmobile Goggle apart. This year we revisited the shape of the frame to ensure the absolute best helmet fit possible. No shortcuts on optical clarity either with durable dual-pane lens technology featuring premium anti-fog and anti-scratch coatings. The extra-grippy adjustable strap keeps the goggle securely in place all day, and with extra lenses available, kids can easily adjust the tint to match any weather condition.\u003c\/p\u003e\n\u003cp\u003e\u003cstrong\u003eFEATURES\u003c\/strong\u003e\u003cbr\u003e\u003c\/p\u003e\n\u003cul\u003e\n\u003cli\u003eDual-pane vented, anti-fog, anti-scratch replaceable lens\u003c\/li\u003e\n\u003cli\u003eTriple-layer face foam\u003c\/li\u003e\n\u003cli\u003eSilicone lined anti-slip adjustable goggle strap\u003c\/li\u003e\n\u003cli\u003eVentilated frame for maximum anti-fog performance\u003c\/li\u003e\n\u003cli\u003eReplaceable dual-pane Anti-fog lenses\u003c\/li\u003e\n\u003c\/ul\u003e\n\u003ch3\u003eLENSES\u003c\/h3\u003e\n\u003cul\u003e\n\u003cli\u003e\n\u003cstrong\u003eClear Lens \u003c\/strong\u003e- Cloudy, Low Light\u003c\/li\u003e\n\u003cli\u003e\n\u003cstrong\u003eSapphire Mirror Smoke Tint \u003c\/strong\u003e- Sunny\u003c\/li\u003e\n\u003cli\u003e\n\u003cstrong\u003eSmoke Tint \u003c\/strong\u003e- Sunny\u003c\/li\u003e\n\u003cli\u003e\n\u003cstrong\u003eYellow Tint \u003c\/strong\u003e- Cloudy, Low Light\u003c\/li\u003e\n\u003c\/ul\u003e","published_at":"2020-09-25T13:02:47-07:00","created_at":"2020-10-09T15:48:15-07:00","vendor":"509","type":"Goggles","tags":["50-100","509","age_youth","BRAND_509","colour-black-ops","colour-black-with-yellow-lens","colour-nightvision","colour-orange-pop","colour-rasberry-pop","colour-strawberry-pop","goggles","SNOW","w20\/21","W21\/22","W22\/23","W23\/24"],"price":5949,"price_min":5949,"price_max":7499,"available":true,"price_varies":true,"compare_at_price":0,"compare_at_price_min":0,"compare_at_price_max":7499,"compare_at_price_varies":true,"variants":[{"id":43429052416232,"title":"Nightvision","option1":"Nightvision","option2":null,"option3":null,"sku":"F02002201-000-005","requires_shipping":true,"taxable":true,"featured_image":{"id":41751227302120,"product_id":5754707411107,"position":1,"created_at":"2023-10-04T14:09:47-07:00","updated_at":"2023-10-04T14:09:47-07:00","alt":null,"width":1182,"height":1140,"src":"\/\/www.revolutionpowersports.ca\/cdn\/shop\/products\/F02002201-000-005.01_b405e086-4ff5-45f5-a220-93247c564c18.jpg?v=1696453787","variant_ids":[43429052416232]},"available":true,"name":"509 Youth Ripper 2 Goggle - Nightvision","public_title":"Nightvision","options":["Nightvision"],"price":6999,"weight":259,"compare_at_price":0,"inventory_management":"shopify","barcode":"843614180986","featured_media":{"alt":null,"id":34362894418152,"position":1,"preview_image":{"aspect_ratio":1.037,"height":1140,"width":1182,"src":"\/\/www.revolutionpowersports.ca\/cdn\/shop\/products\/F02002201-000-005.01_b405e086-4ff5-45f5-a220-93247c564c18.jpg?v=1696453787"}},"requires_selling_plan":false,"selling_plan_allocations":[]},{"id":43429052285160,"title":"Orange Pop","option1":"Orange Pop","option2":null,"option3":null,"sku":"F02002201-000-401","requires_shipping":true,"taxable":true,"featured_image":{"id":41751227400424,"product_id":5754707411107,"position":4,"created_at":"2023-10-04T14:09:47-07:00","updated_at":"2023-10-04T14:09:47-07:00","alt":null,"width":1182,"height":1140,"src":"\/\/www.revolutionpowersports.ca\/cdn\/shop\/products\/F02002201-000-401.01_7aa5a945-8ba9-4ca1-91f3-e2e7523dc767.jpg?v=1696453787","variant_ids":[43429052285160]},"available":true,"name":"509 Youth Ripper 2 Goggle - Orange Pop","public_title":"Orange Pop","options":["Orange Pop"],"price":7499,"weight":259,"compare_at_price":0,"inventory_management":"shopify","barcode":"843614180979","featured_media":{"alt":null,"id":34362894516456,"position":4,"preview_image":{"aspect_ratio":1.037,"height":1140,"width":1182,"src":"\/\/www.revolutionpowersports.ca\/cdn\/shop\/products\/F02002201-000-401.01_7aa5a945-8ba9-4ca1-91f3-e2e7523dc767.jpg?v=1696453787"}},"requires_selling_plan":false,"selling_plan_allocations":[]},{"id":43429052317928,"title":"Rasberry Pop","option1":"Rasberry Pop","option2":null,"option3":null,"sku":"F02002201-000-102","requires_shipping":true,"taxable":true,"featured_image":{"id":41751227465960,"product_id":5754707411107,"position":6,"created_at":"2023-10-04T14:09:47-07:00","updated_at":"2023-10-04T14:09:47-07:00","alt":null,"width":1182,"height":1140,"src":"\/\/www.revolutionpowersports.ca\/cdn\/shop\/products\/F02002201-000-102.01_50236c2f-09b8-4369-8cce-e09a18a847d4.jpg?v=1696453787","variant_ids":[43429052317928]},"available":true,"name":"509 Youth Ripper 2 Goggle - Rasberry Pop","public_title":"Rasberry Pop","options":["Rasberry Pop"],"price":7499,"weight":259,"compare_at_price":0,"inventory_management":"shopify","barcode":"843614180962","featured_media":{"alt":null,"id":34362894581992,"position":6,"preview_image":{"aspect_ratio":1.037,"height":1140,"width":1182,"src":"\/\/www.revolutionpowersports.ca\/cdn\/shop\/products\/F02002201-000-102.01_50236c2f-09b8-4369-8cce-e09a18a847d4.jpg?v=1696453787"}},"requires_selling_plan":false,"selling_plan_allocations":[]},{"id":43429052383464,"title":"Black with Yellow Lens","option1":"Black with Yellow Lens","option2":null,"option3":null,"sku":"F02002201-000-006","requires_shipping":true,"taxable":true,"featured_image":{"id":41751227334888,"product_id":5754707411107,"position":2,"created_at":"2023-10-04T14:09:47-07:00","updated_at":"2023-10-04T14:09:47-07:00","alt":null,"width":1182,"height":1140,"src":"\/\/www.revolutionpowersports.ca\/cdn\/shop\/products\/F02002201-000-006.01_653d45ce-ea29-4f00-9fef-f14959469154.jpg?v=1696453787","variant_ids":[43429052383464]},"available":true,"name":"509 Youth Ripper 2 Goggle - Black with Yellow Lens","public_title":"Black with Yellow Lens","options":["Black with Yellow Lens"],"price":6999,"weight":259,"compare_at_price":0,"inventory_management":"shopify","barcode":"843614180993","featured_media":{"alt":null,"id":34362894450920,"position":2,"preview_image":{"aspect_ratio":1.037,"height":1140,"width":1182,"src":"\/\/www.revolutionpowersports.ca\/cdn\/shop\/products\/F02002201-000-006.01_653d45ce-ea29-4f00-9fef-f14959469154.jpg?v=1696453787"}},"requires_selling_plan":false,"selling_plan_allocations":[]},{"id":43429052350696,"title":"Strawberry Pop","option1":"Strawberry Pop","option2":null,"option3":null,"sku":"F02002201-000-101","requires_shipping":true,"taxable":true,"featured_image":{"id":41751227367656,"product_id":5754707411107,"position":3,"created_at":"2023-10-04T14:09:47-07:00","updated_at":"2023-10-04T14:09:47-07:00","alt":null,"width":1182,"height":1140,"src":"\/\/www.revolutionpowersports.ca\/cdn\/shop\/products\/F02002201-000-101.01_13ebaeaf-b8ff-499b-b9fa-2f98759b232b.jpg?v=1696453787","variant_ids":[43429052350696]},"available":true,"name":"509 Youth Ripper 2 Goggle - Strawberry Pop","public_title":"Strawberry Pop","options":["Strawberry Pop"],"price":6374,"weight":259,"compare_at_price":7499,"inventory_management":"shopify","barcode":"843614180955","featured_media":{"alt":null,"id":34362894483688,"position":3,"preview_image":{"aspect_ratio":1.037,"height":1140,"width":1182,"src":"\/\/www.revolutionpowersports.ca\/cdn\/shop\/products\/F02002201-000-101.01_13ebaeaf-b8ff-499b-b9fa-2f98759b232b.jpg?v=1696453787"}},"requires_selling_plan":false,"selling_plan_allocations":[]},{"id":36554598056099,"title":"Black Ops","option1":"Black Ops","option2":null,"option3":null,"sku":"F02002201-000-051","requires_shipping":true,"taxable":true,"featured_image":{"id":41751227433192,"product_id":5754707411107,"position":5,"created_at":"2023-10-04T14:09:47-07:00","updated_at":"2023-10-04T14:09:47-07:00","alt":null,"width":1200,"height":1200,"src":"\/\/www.revolutionpowersports.ca\/cdn\/shop\/products\/F02002201-000-051_778ef1be-4e25-4eb9-a9ec-d7e64694a57d.jpg?v=1696453787","variant_ids":[36554598056099]},"available":true,"name":"509 Youth Ripper 2 Goggle - Black Ops","public_title":"Black Ops","options":["Black Ops"],"price":5949,"weight":259,"compare_at_price":6999,"inventory_management":"shopify","barcode":"843614138260","featured_media":{"alt":null,"id":34362894549224,"position":5,"preview_image":{"aspect_ratio":1.0,"height":1200,"width":1200,"src":"\/\/www.revolutionpowersports.ca\/cdn\/shop\/products\/F02002201-000-051_778ef1be-4e25-4eb9-a9ec-d7e64694a57d.jpg?v=1696453787"}},"requires_selling_plan":false,"selling_plan_allocations":[]}],"images":["\/\/www.revolutionpowersports.ca\/cdn\/shop\/products\/F02002201-000-005.01_b405e086-4ff5-45f5-a220-93247c564c18.jpg?v=1696453787","\/\/www.revolutionpowersports.ca\/cdn\/shop\/products\/F02002201-000-006.01_653d45ce-ea29-4f00-9fef-f14959469154.jpg?v=1696453787","\/\/www.revolutionpowersports.ca\/cdn\/shop\/products\/F02002201-000-101.01_13ebaeaf-b8ff-499b-b9fa-2f98759b232b.jpg?v=1696453787","\/\/www.revolutionpowersports.ca\/cdn\/shop\/products\/F02002201-000-401.01_7aa5a945-8ba9-4ca1-91f3-e2e7523dc767.jpg?v=1696453787","\/\/www.revolutionpowersports.ca\/cdn\/shop\/products\/F02002201-000-051_778ef1be-4e25-4eb9-a9ec-d7e64694a57d.jpg?v=1696453787","\/\/www.revolutionpowersports.ca\/cdn\/shop\/products\/F02002201-000-102.01_50236c2f-09b8-4369-8cce-e09a18a847d4.jpg?v=1696453787"],"featured_image":"\/\/www.revolutionpowersports.ca\/cdn\/shop\/products\/F02002201-000-005.01_b405e086-4ff5-45f5-a220-93247c564c18.jpg?v=1696453787","options":["Colour"],"media":[{"alt":null,"id":34362894418152,"position":1,"preview_image":{"aspect_ratio":1.037,"height":1140,"width":1182,"src":"\/\/www.revolutionpowersports.ca\/cdn\/shop\/products\/F02002201-000-005.01_b405e086-4ff5-45f5-a220-93247c564c18.jpg?v=1696453787"},"aspect_ratio":1.037,"height":1140,"media_type":"image","src":"\/\/www.revolutionpowersports.ca\/cdn\/shop\/products\/F02002201-000-005.01_b405e086-4ff5-45f5-a220-93247c564c18.jpg?v=1696453787","width":1182},{"alt":null,"id":34362894450920,"position":2,"preview_image":{"aspect_ratio":1.037,"height":1140,"width":1182,"src":"\/\/www.revolutionpowersports.ca\/cdn\/shop\/products\/F02002201-000-006.01_653d45ce-ea29-4f00-9fef-f14959469154.jpg?v=1696453787"},"aspect_ratio":1.037,"height":1140,"media_type":"image","src":"\/\/www.revolutionpowersports.ca\/cdn\/shop\/products\/F02002201-000-006.01_653d45ce-ea29-4f00-9fef-f14959469154.jpg?v=1696453787","width":1182},{"alt":null,"id":34362894483688,"position":3,"preview_image":{"aspect_ratio":1.037,"height":1140,"width":1182,"src":"\/\/www.revolutionpowersports.ca\/cdn\/shop\/products\/F02002201-000-101.01_13ebaeaf-b8ff-499b-b9fa-2f98759b232b.jpg?v=1696453787"},"aspect_ratio":1.037,"height":1140,"media_type":"image","src":"\/\/www.revolutionpowersports.ca\/cdn\/shop\/products\/F02002201-000-101.01_13ebaeaf-b8ff-499b-b9fa-2f98759b232b.jpg?v=1696453787","width":1182},{"alt":null,"id":34362894516456,"position":4,"preview_image":{"aspect_ratio":1.037,"height":1140,"width":1182,"src":"\/\/www.revolutionpowersports.ca\/cdn\/shop\/products\/F02002201-000-401.01_7aa5a945-8ba9-4ca1-91f3-e2e7523dc767.jpg?v=1696453787"},"aspect_ratio":1.037,"height":1140,"media_type":"image","src":"\/\/www.revolutionpowersports.ca\/cdn\/shop\/products\/F02002201-000-401.01_7aa5a945-8ba9-4ca1-91f3-e2e7523dc767.jpg?v=1696453787","width":1182},{"alt":null,"id":34362894549224,"position":5,"preview_image":{"aspect_ratio":1.0,"height":1200,"width":1200,"src":"\/\/www.revolutionpowersports.ca\/cdn\/shop\/products\/F02002201-000-051_778ef1be-4e25-4eb9-a9ec-d7e64694a57d.jpg?v=1696453787"},"aspect_ratio":1.0,"height":1200,"media_type":"image","src":"\/\/www.revolutionpowersports.ca\/cdn\/shop\/products\/F02002201-000-051_778ef1be-4e25-4eb9-a9ec-d7e64694a57d.jpg?v=1696453787","width":1200},{"alt":null,"id":34362894581992,"position":6,"preview_image":{"aspect_ratio":1.037,"height":1140,"width":1182,"src":"\/\/www.revolutionpowersports.ca\/cdn\/shop\/products\/F02002201-000-102.01_50236c2f-09b8-4369-8cce-e09a18a847d4.jpg?v=1696453787"},"aspect_ratio":1.037,"height":1140,"media_type":"image","src":"\/\/www.revolutionpowersports.ca\/cdn\/shop\/products\/F02002201-000-102.01_50236c2f-09b8-4369-8cce-e09a18a847d4.jpg?v=1696453787","width":1182}],"requires_selling_plan":false,"selling_plan_groups":[],"content":"\u003cp\u003eAttention to detail is what sets the 509 Ripper 2.0 Youth Snowmobile Goggle apart. This year we revisited the shape of the frame to ensure the absolute best helmet fit possible. No shortcuts on optical clarity either with durable dual-pane lens technology featuring premium anti-fog and anti-scratch coatings. The extra-grippy adjustable strap keeps the goggle securely in place all day, and with extra lenses available, kids can easily adjust the tint to match any weather condition.\u003c\/p\u003e\n\u003cp\u003e\u003cstrong\u003eFEATURES\u003c\/strong\u003e\u003cbr\u003e\u003c\/p\u003e\n\u003cul\u003e\n\u003cli\u003eDual-pane vented, anti-fog, anti-scratch replaceable lens\u003c\/li\u003e\n\u003cli\u003eTriple-layer face foam\u003c\/li\u003e\n\u003cli\u003eSilicone lined anti-slip adjustable goggle strap\u003c\/li\u003e\n\u003cli\u003eVentilated frame for maximum anti-fog performance\u003c\/li\u003e\n\u003cli\u003eReplaceable dual-pane Anti-fog lenses\u003c\/li\u003e\n\u003c\/ul\u003e\n\u003ch3\u003eLENSES\u003c\/h3\u003e\n\u003cul\u003e\n\u003cli\u003e\n\u003cstrong\u003eClear Lens \u003c\/strong\u003e- Cloudy, Low Light\u003c\/li\u003e\n\u003cli\u003e\n\u003cstrong\u003eSapphire Mirror Smoke Tint \u003c\/strong\u003e- Sunny\u003c\/li\u003e\n\u003cli\u003e\n\u003cstrong\u003eSmoke Tint \u003c\/strong\u003e- Sunny\u003c\/li\u003e\n\u003cli\u003e\n\u003cstrong\u003eYellow Tint \u003c\/strong\u003e- Cloudy, Low Light\u003c\/li\u003e\n\u003c\/ul\u003e"}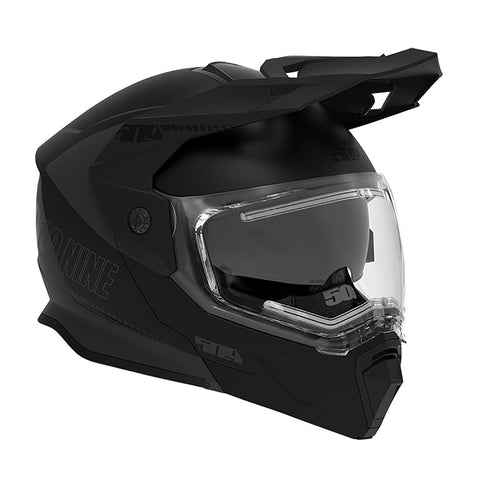 Quick View
{"id":5754613989539,"title":"509 Delta R4 Ignite Helmet","handle":"509-delta-r4","description":"\u003cp\u003eOur innovative new 509 Delta R4 Ignite Heated Shield Snowmobile Helmet sets the new standard for modular flip-up face shield performance with Ignite dual pane heating technology for clear, ice- and fog-free vision in sub-zero conditions. The sunshield is oversized for maximum field of view and flips up instantly with the push of a glove-friendly button. Built for maximum warmth and convenience, the helmet's long list of features includes climate control venting and the glove-friendly Fidlock® magnetic strap buckle.\u003c\/p\u003e\n\u003ch3\u003e509 DELTA R4 IGNITE HELMET FEATURES\u003c\/h3\u003e\n\u003cul\u003e\n\u003cli\u003eIgnite dual pane heated shield for fog free performance\u003c\/li\u003e\n\u003cli\u003eDOT\/ECE dual certified helmet shell\u003c\/li\u003e\n\u003cli\u003ePoly Alloy Shell construction for durable quality\u003c\/li\u003e\n\u003cli\u003e2 shell sizes, and Dual Density EPS for optimal fit\u003c\/li\u003e\n\u003cli\u003ePremium Liner for a comfortable and quiet fit\u003c\/li\u003e\n\u003cli\u003eCustom liner kits available for a fine-tuned fit\u003c\/li\u003e\n\u003cli\u003eClimate control Ventilation system with two stage front chin vent, adjustable forehead vents, and exhaust vents.\u003c\/li\u003e\n\u003cli\u003eArctic Chin Curtain and 509 breath box comes standard\u003c\/li\u003e\n\u003cli\u003eSmoke tinted sunshield drops down with Sunshield Trigger\u003c\/li\u003e\n\u003cli\u003eFidlock chin strap closure\u003c\/li\u003e\n\u003cli\u003eQuarter turn cable included\u003c\/li\u003e\n\u003cli\u003eDOT\/ECE helmet from 1900 grams\u003c\/li\u003e\n\u003c\/ul\u003e\n\u003cp\u003e\u003ca href=\"https:\/\/cdn.shopify.com\/s\/files\/1\/0317\/2194\/7271\/files\/CopyofYou_regoingtoLOVEthefit.Tryitonandexperienceourperfectfit.Ifyoudon_tloveit_senditbackinnewandunusedconditionwithin30daysforanexchangeorfullrefund.Riskfree.Not_4.png?v=1691095130\" target=\"_blank\" data-mce-href=\"https:\/\/cdn.shopify.com\/s\/files\/1\/0317\/2194\/7271\/files\/CopyofYou_regoingtoLOVEthefit.Tryitonandexperienceourperfectfit.Ifyoudon_tloveit_senditbackinnewandunusedconditionwithin30daysforanexchangeorfullrefund.Riskfree.Not_4.png?v=1691095130\"\u003eClick here for the Sizing Chart\u003c\/a\u003e\u003c\/p\u003e","published_at":"2020-04-29T13:24:30-07:00","created_at":"2020-10-09T15:13:46-07:00","vendor":"509","type":"Helmets","tags":["250-500","509","BRAND_509","colour-black-aura","colour-black-ops","colour-emerald","colour-matte-ops","colour-orange","colour-storm-chaser","HEATED","helmets","ignite-ignite","over-500","size-2xl","size-lg","size-md","size-sm","size-xl","size-xs","SNOW","W19\/20","W20\/21","W21\/22","W22\/23","W23\/24"],"price":48449,"price_min":48449,"price_max":56999,"available":true,"price_varies":true,"compare_at_price":0,"compare_at_price_min":0,"compare_at_price_max":56999,"compare_at_price_varies":true,"variants":[{"id":44563182715112,"title":"Black Ops \/ XS","option1":"Black Ops","option2":"XS","option3":null,"sku":"F01004300-110-005","requires_shipping":true,"taxable":true,"featured_image":{"id":41751289397480,"product_id":5754613989539,"position":1,"created_at":"2023-10-04T14:19:20-07:00","updated_at":"2023-10-04T14:19:20-07:00","alt":null,"width":1200,"height":1200,"src":"\/\/www.revolutionpowersports.ca\/cdn\/shop\/products\/F01004300-XXX-005_02_460e17dc-4bdb-4972-980f-e9516955b7f7.jpg?v=1696454360","variant_ids":[44563182715112,44563182747880,44563182780648,44563182813416,44563182846184,44563182878952]},"available":false,"name":"509 Delta R4 Ignite Helmet - Black Ops \/ XS","public_title":"Black Ops \/ XS","options":["Black Ops","XS"],"price":56999,"weight":2599,"compare_at_price":null,"inventory_management":"shopify","barcode":"843614161855","featured_media":{"alt":null,"id":34362960150760,"position":1,"preview_image":{"aspect_ratio":1.0,"height":1200,"width":1200,"src":"\/\/www.revolutionpowersports.ca\/cdn\/shop\/products\/F01004300-XXX-005_02_460e17dc-4bdb-4972-980f-e9516955b7f7.jpg?v=1696454360"}},"requires_selling_plan":false,"selling_plan_allocations":[]},{"id":44563182747880,"title":"Black Ops \/ SM","option1":"Black Ops","option2":"SM","option3":null,"sku":"F01004300-120-005","requires_shipping":true,"taxable":true,"featured_image":{"id":41751289397480,"product_id":5754613989539,"position":1,"created_at":"2023-10-04T14:19:20-07:00","updated_at":"2023-10-04T14:19:20-07:00","alt":null,"width":1200,"height":1200,"src":"\/\/www.revolutionpowersports.ca\/cdn\/shop\/products\/F01004300-XXX-005_02_460e17dc-4bdb-4972-980f-e9516955b7f7.jpg?v=1696454360","variant_ids":[44563182715112,44563182747880,44563182780648,44563182813416,44563182846184,44563182878952]},"available":false,"name":"509 Delta R4 Ignite Helmet - Black Ops \/ SM","public_title":"Black Ops \/ SM","options":["Black Ops","SM"],"price":56999,"weight":3120,"compare_at_price":null,"inventory_management":"shopify","barcode":"843614161862","featured_media":{"alt":null,"id":34362960150760,"position":1,"preview_image":{"aspect_ratio":1.0,"height":1200,"width":1200,"src":"\/\/www.revolutionpowersports.ca\/cdn\/shop\/products\/F01004300-XXX-005_02_460e17dc-4bdb-4972-980f-e9516955b7f7.jpg?v=1696454360"}},"requires_selling_plan":false,"selling_plan_allocations":[]},{"id":44563182780648,"title":"Black Ops \/ MD","option1":"Black Ops","option2":"MD","option3":null,"sku":"F01004300-130-005","requires_shipping":true,"taxable":true,"featured_image":{"id":41751289397480,"product_id":5754613989539,"position":1,"created_at":"2023-10-04T14:19:20-07:00","updated_at":"2023-10-04T14:19:20-07:00","alt":null,"width":1200,"height":1200,"src":"\/\/www.revolutionpowersports.ca\/cdn\/shop\/products\/F01004300-XXX-005_02_460e17dc-4bdb-4972-980f-e9516955b7f7.jpg?v=1696454360","variant_ids":[44563182715112,44563182747880,44563182780648,44563182813416,44563182846184,44563182878952]},"available":false,"name":"509 Delta R4 Ignite Helmet - Black Ops \/ MD","public_title":"Black Ops \/ MD","options":["Black Ops","MD"],"price":56999,"weight":3120,"compare_at_price":null,"inventory_management":"shopify","barcode":"843614161879","featured_media":{"alt":null,"id":34362960150760,"position":1,"preview_image":{"aspect_ratio":1.0,"height":1200,"width":1200,"src":"\/\/www.revolutionpowersports.ca\/cdn\/shop\/products\/F01004300-XXX-005_02_460e17dc-4bdb-4972-980f-e9516955b7f7.jpg?v=1696454360"}},"requires_selling_plan":false,"selling_plan_allocations":[]},{"id":44563182813416,"title":"Black Ops \/ LG","option1":"Black Ops","option2":"LG","option3":null,"sku":"F01004300-140-005","requires_shipping":true,"taxable":true,"featured_image":{"id":41751289397480,"product_id":5754613989539,"position":1,"created_at":"2023-10-04T14:19:20-07:00","updated_at":"2023-10-04T14:19:20-07:00","alt":null,"width":1200,"height":1200,"src":"\/\/www.revolutionpowersports.ca\/cdn\/shop\/products\/F01004300-XXX-005_02_460e17dc-4bdb-4972-980f-e9516955b7f7.jpg?v=1696454360","variant_ids":[44563182715112,44563182747880,44563182780648,44563182813416,44563182846184,44563182878952]},"available":false,"name":"509 Delta R4 Ignite Helmet - Black Ops \/ LG","public_title":"Black Ops \/ LG","options":["Black Ops","LG"],"price":56999,"weight":2599,"compare_at_price":null,"inventory_management":"shopify","barcode":"843614161886","featured_media":{"alt":null,"id":34362960150760,"position":1,"preview_image":{"aspect_ratio":1.0,"height":1200,"width":1200,"src":"\/\/www.revolutionpowersports.ca\/cdn\/shop\/products\/F01004300-XXX-005_02_460e17dc-4bdb-4972-980f-e9516955b7f7.jpg?v=1696454360"}},"requires_selling_plan":false,"selling_plan_allocations":[]},{"id":44563182846184,"title":"Black Ops \/ XL","option1":"Black Ops","option2":"XL","option3":null,"sku":"F01004300-150-005","requires_shipping":true,"taxable":true,"featured_image":{"id":41751289397480,"product_id":5754613989539,"position":1,"created_at":"2023-10-04T14:19:20-07:00","updated_at":"2023-10-04T14:19:20-07:00","alt":null,"width":1200,"height":1200,"src":"\/\/www.revolutionpowersports.ca\/cdn\/shop\/products\/F01004300-XXX-005_02_460e17dc-4bdb-4972-980f-e9516955b7f7.jpg?v=1696454360","variant_ids":[44563182715112,44563182747880,44563182780648,44563182813416,44563182846184,44563182878952]},"available":false,"name":"509 Delta R4 Ignite Helmet - Black Ops \/ XL","public_title":"Black Ops \/ XL","options":["Black Ops","XL"],"price":56999,"weight":2599,"compare_at_price":null,"inventory_management":"shopify","barcode":"843614161893","featured_media":{"alt":null,"id":34362960150760,"position":1,"preview_image":{"aspect_ratio":1.0,"height":1200,"width":1200,"src":"\/\/www.revolutionpowersports.ca\/cdn\/shop\/products\/F01004300-XXX-005_02_460e17dc-4bdb-4972-980f-e9516955b7f7.jpg?v=1696454360"}},"requires_selling_plan":false,"selling_plan_allocations":[]},{"id":44563182878952,"title":"Black Ops \/ 2XL","option1":"Black Ops","option2":"2XL","option3":null,"sku":"F01004300-160-005","requires_shipping":true,"taxable":true,"featured_image":{"id":41751289397480,"product_id":5754613989539,"position":1,"created_at":"2023-10-04T14:19:20-07:00","updated_at":"2023-10-04T14:19:20-07:00","alt":null,"width":1200,"height":1200,"src":"\/\/www.revolutionpowersports.ca\/cdn\/shop\/products\/F01004300-XXX-005_02_460e17dc-4bdb-4972-980f-e9516955b7f7.jpg?v=1696454360","variant_ids":[44563182715112,44563182747880,44563182780648,44563182813416,44563182846184,44563182878952]},"available":false,"name":"509 Delta R4 Ignite Helmet - Black Ops \/ 2XL","public_title":"Black Ops \/ 2XL","options":["Black Ops","2XL"],"price":56999,"weight":2599,"compare_at_price":null,"inventory_management":"shopify","barcode":"843614161909","featured_media":{"alt":null,"id":34362960150760,"position":1,"preview_image":{"aspect_ratio":1.0,"height":1200,"width":1200,"src":"\/\/www.revolutionpowersports.ca\/cdn\/shop\/products\/F01004300-XXX-005_02_460e17dc-4bdb-4972-980f-e9516955b7f7.jpg?v=1696454360"}},"requires_selling_plan":false,"selling_plan_allocations":[]},{"id":43429091344616,"title":"Orange \/ XS","option1":"Orange","option2":"XS","option3":null,"sku":"F01004300-110-401","requires_shipping":true,"taxable":true,"featured_image":{"id":41751289430248,"product_id":5754613989539,"position":2,"created_at":"2023-10-04T14:19:20-07:00","updated_at":"2023-10-04T14:19:20-07:00","alt":null,"width":1200,"height":1200,"src":"\/\/www.revolutionpowersports.ca\/cdn\/shop\/products\/F01004300-XXX-401.02_b4168371-e2e6-4b5d-833a-1f4c4333dcbb.jpg?v=1696454360","variant_ids":[43429091344616,43429091377384,43429091410152,43429091442920,43429091475688,43429091508456]},"available":true,"name":"509 Delta R4 Ignite Helmet - Orange \/ XS","public_title":"Orange \/ XS","options":["Orange","XS"],"price":48449,"weight":0,"compare_at_price":56999,"inventory_management":"shopify","barcode":"843614180245","featured_media":{"alt":null,"id":34362960183528,"position":2,"preview_image":{"aspect_ratio":1.0,"height":1200,"width":1200,"src":"\/\/www.revolutionpowersports.ca\/cdn\/shop\/products\/F01004300-XXX-401.02_b4168371-e2e6-4b5d-833a-1f4c4333dcbb.jpg?v=1696454360"}},"requires_selling_plan":false,"selling_plan_allocations":[]},{"id":43429091377384,"title":"Orange \/ SM","option1":"Orange","option2":"SM","option3":null,"sku":"F01004300-120-401","requires_shipping":true,"taxable":true,"featured_image":{"id":41751289430248,"product_id":5754613989539,"position":2,"created_at":"2023-10-04T14:19:20-07:00","updated_at":"2023-10-04T14:19:20-07:00","alt":null,"width":1200,"height":1200,"src":"\/\/www.revolutionpowersports.ca\/cdn\/shop\/products\/F01004300-XXX-401.02_b4168371-e2e6-4b5d-833a-1f4c4333dcbb.jpg?v=1696454360","variant_ids":[43429091344616,43429091377384,43429091410152,43429091442920,43429091475688,43429091508456]},"available":true,"name":"509 Delta R4 Ignite Helmet - Orange \/ SM","public_title":"Orange \/ SM","options":["Orange","SM"],"price":48449,"weight":0,"compare_at_price":56999,"inventory_management":"shopify","barcode":"843614180238","featured_media":{"alt":null,"id":34362960183528,"position":2,"preview_image":{"aspect_ratio":1.0,"height":1200,"width":1200,"src":"\/\/www.revolutionpowersports.ca\/cdn\/shop\/products\/F01004300-XXX-401.02_b4168371-e2e6-4b5d-833a-1f4c4333dcbb.jpg?v=1696454360"}},"requires_selling_plan":false,"selling_plan_allocations":[]},{"id":43429091410152,"title":"Orange \/ MD","option1":"Orange","option2":"MD","option3":null,"sku":"F01004300-130-401","requires_shipping":true,"taxable":true,"featured_image":{"id":41751289430248,"product_id":5754613989539,"position":2,"created_at":"2023-10-04T14:19:20-07:00","updated_at":"2023-10-04T14:19:20-07:00","alt":null,"width":1200,"height":1200,"src":"\/\/www.revolutionpowersports.ca\/cdn\/shop\/products\/F01004300-XXX-401.02_b4168371-e2e6-4b5d-833a-1f4c4333dcbb.jpg?v=1696454360","variant_ids":[43429091344616,43429091377384,43429091410152,43429091442920,43429091475688,43429091508456]},"available":true,"name":"509 Delta R4 Ignite Helmet - Orange \/ MD","public_title":"Orange \/ MD","options":["Orange","MD"],"price":48449,"weight":0,"compare_at_price":56999,"inventory_management":"shopify","barcode":"843614180221","featured_media":{"alt":null,"id":34362960183528,"position":2,"preview_image":{"aspect_ratio":1.0,"height":1200,"width":1200,"src":"\/\/www.revolutionpowersports.ca\/cdn\/shop\/products\/F01004300-XXX-401.02_b4168371-e2e6-4b5d-833a-1f4c4333dcbb.jpg?v=1696454360"}},"requires_selling_plan":false,"selling_plan_allocations":[]},{"id":43429091442920,"title":"Orange \/ LG","option1":"Orange","option2":"LG","option3":null,"sku":"F01004300-140-401","requires_shipping":true,"taxable":true,"featured_image":{"id":41751289430248,"product_id":5754613989539,"position":2,"created_at":"2023-10-04T14:19:20-07:00","updated_at":"2023-10-04T14:19:20-07:00","alt":null,"width":1200,"height":1200,"src":"\/\/www.revolutionpowersports.ca\/cdn\/shop\/products\/F01004300-XXX-401.02_b4168371-e2e6-4b5d-833a-1f4c4333dcbb.jpg?v=1696454360","variant_ids":[43429091344616,43429091377384,43429091410152,43429091442920,43429091475688,43429091508456]},"available":true,"name":"509 Delta R4 Ignite Helmet - Orange \/ LG","public_title":"Orange \/ LG","options":["Orange","LG"],"price":48449,"weight":0,"compare_at_price":56999,"inventory_management":"shopify","barcode":"843614180214","featured_media":{"alt":null,"id":34362960183528,"position":2,"preview_image":{"aspect_ratio":1.0,"height":1200,"width":1200,"src":"\/\/www.revolutionpowersports.ca\/cdn\/shop\/products\/F01004300-XXX-401.02_b4168371-e2e6-4b5d-833a-1f4c4333dcbb.jpg?v=1696454360"}},"requires_selling_plan":false,"selling_plan_allocations":[]},{"id":43429091475688,"title":"Orange \/ XL","option1":"Orange","option2":"XL","option3":null,"sku":"F01004300-150-401","requires_shipping":true,"taxable":true,"featured_image":{"id":41751289430248,"product_id":5754613989539,"position":2,"created_at":"2023-10-04T14:19:20-07:00","updated_at":"2023-10-04T14:19:20-07:00","alt":null,"width":1200,"height":1200,"src":"\/\/www.revolutionpowersports.ca\/cdn\/shop\/products\/F01004300-XXX-401.02_b4168371-e2e6-4b5d-833a-1f4c4333dcbb.jpg?v=1696454360","variant_ids":[43429091344616,43429091377384,43429091410152,43429091442920,43429091475688,43429091508456]},"available":true,"name":"509 Delta R4 Ignite Helmet - Orange \/ XL","public_title":"Orange \/ XL","options":["Orange","XL"],"price":48449,"weight":0,"compare_at_price":56999,"inventory_management":"shopify","barcode":"843614180207","featured_media":{"alt":null,"id":34362960183528,"position":2,"preview_image":{"aspect_ratio":1.0,"height":1200,"width":1200,"src":"\/\/www.revolutionpowersports.ca\/cdn\/shop\/products\/F01004300-XXX-401.02_b4168371-e2e6-4b5d-833a-1f4c4333dcbb.jpg?v=1696454360"}},"requires_selling_plan":false,"selling_plan_allocations":[]},{"id":43429091508456,"title":"Orange \/ 2XL","option1":"Orange","option2":"2XL","option3":null,"sku":"F01004300-160-401","requires_shipping":true,"taxable":true,"featured_image":{"id":41751289430248,"product_id":5754613989539,"position":2,"created_at":"2023-10-04T14:19:20-07:00","updated_at":"2023-10-04T14:19:20-07:00","alt":null,"width":1200,"height":1200,"src":"\/\/www.revolutionpowersports.ca\/cdn\/shop\/products\/F01004300-XXX-401.02_b4168371-e2e6-4b5d-833a-1f4c4333dcbb.jpg?v=1696454360","variant_ids":[43429091344616,43429091377384,43429091410152,43429091442920,43429091475688,43429091508456]},"available":true,"name":"509 Delta R4 Ignite Helmet - Orange \/ 2XL","public_title":"Orange \/ 2XL","options":["Orange","2XL"],"price":48449,"weight":0,"compare_at_price":56999,"inventory_management":"shopify","barcode":"843614180191","featured_media":{"alt":null,"id":34362960183528,"position":2,"preview_image":{"aspect_ratio":1.0,"height":1200,"width":1200,"src":"\/\/www.revolutionpowersports.ca\/cdn\/shop\/products\/F01004300-XXX-401.02_b4168371-e2e6-4b5d-833a-1f4c4333dcbb.jpg?v=1696454360"}},"requires_selling_plan":false,"selling_plan_allocations":[]},{"id":43429091541224,"title":"Emerald \/ XS","option1":"Emerald","option2":"XS","option3":null,"sku":"F01004300-110-302","requires_shipping":true,"taxable":true,"featured_image":{"id":41751289495784,"product_id":5754613989539,"position":3,"created_at":"2023-10-04T14:19:20-07:00","updated_at":"2023-10-04T14:19:20-07:00","alt":null,"width":1200,"height":1200,"src":"\/\/www.revolutionpowersports.ca\/cdn\/shop\/products\/F01004300-XXX-302.02_f21f2f37-4dd0-4f66-a1ca-d55f4ddfeb9a.jpg?v=1696454360","variant_ids":[43429091541224,43429091573992,43429091606760,43429091639528,43429091672296,43429091705064]},"available":true,"name":"509 Delta R4 Ignite Helmet - Emerald \/ XS","public_title":"Emerald \/ XS","options":["Emerald","XS"],"price":48449,"weight":0,"compare_at_price":56999,"inventory_management":"shopify","barcode":"843614180306","featured_media":{"alt":null,"id":34362960216296,"position":3,"preview_image":{"aspect_ratio":1.0,"height":1200,"width":1200,"src":"\/\/www.revolutionpowersports.ca\/cdn\/shop\/products\/F01004300-XXX-302.02_f21f2f37-4dd0-4f66-a1ca-d55f4ddfeb9a.jpg?v=1696454360"}},"requires_selling_plan":false,"selling_plan_allocations":[]},{"id":43429091573992,"title":"Emerald \/ SM","option1":"Emerald","option2":"SM","option3":null,"sku":"F01004300-120-302","requires_shipping":true,"taxable":true,"featured_image":{"id":41751289495784,"product_id":5754613989539,"position":3,"created_at":"2023-10-04T14:19:20-07:00","updated_at":"2023-10-04T14:19:20-07:00","alt":null,"width":1200,"height":1200,"src":"\/\/www.revolutionpowersports.ca\/cdn\/shop\/products\/F01004300-XXX-302.02_f21f2f37-4dd0-4f66-a1ca-d55f4ddfeb9a.jpg?v=1696454360","variant_ids":[43429091541224,43429091573992,43429091606760,43429091639528,43429091672296,43429091705064]},"available":true,"name":"509 Delta R4 Ignite Helmet - Emerald \/ SM","public_title":"Emerald \/ SM","options":["Emerald","SM"],"price":48449,"weight":0,"compare_at_price":56999,"inventory_management":"shopify","barcode":"843614180290","featured_media":{"alt":null,"id":34362960216296,"position":3,"preview_image":{"aspect_ratio":1.0,"height":1200,"width":1200,"src":"\/\/www.revolutionpowersports.ca\/cdn\/shop\/products\/F01004300-XXX-302.02_f21f2f37-4dd0-4f66-a1ca-d55f4ddfeb9a.jpg?v=1696454360"}},"requires_selling_plan":false,"selling_plan_allocations":[]},{"id":43429091606760,"title":"Emerald \/ MD","option1":"Emerald","option2":"MD","option3":null,"sku":"F01004300-130-302","requires_shipping":true,"taxable":true,"featured_image":{"id":41751289495784,"product_id":5754613989539,"position":3,"created_at":"2023-10-04T14:19:20-07:00","updated_at":"2023-10-04T14:19:20-07:00","alt":null,"width":1200,"height":1200,"src":"\/\/www.revolutionpowersports.ca\/cdn\/shop\/products\/F01004300-XXX-302.02_f21f2f37-4dd0-4f66-a1ca-d55f4ddfeb9a.jpg?v=1696454360","variant_ids":[43429091541224,43429091573992,43429091606760,43429091639528,43429091672296,43429091705064]},"available":true,"name":"509 Delta R4 Ignite Helmet - Emerald \/ MD","public_title":"Emerald \/ MD","options":["Emerald","MD"],"price":48449,"weight":0,"compare_at_price":56999,"inventory_management":"shopify","barcode":"843614180283","featured_media":{"alt":null,"id":34362960216296,"position":3,"preview_image":{"aspect_ratio":1.0,"height":1200,"width":1200,"src":"\/\/www.revolutionpowersports.ca\/cdn\/shop\/products\/F01004300-XXX-302.02_f21f2f37-4dd0-4f66-a1ca-d55f4ddfeb9a.jpg?v=1696454360"}},"requires_selling_plan":false,"selling_plan_allocations":[]},{"id":43429091639528,"title":"Emerald \/ LG","option1":"Emerald","option2":"LG","option3":null,"sku":"F01004300-140-302","requires_shipping":true,"taxable":true,"featured_image":{"id":41751289495784,"product_id":5754613989539,"position":3,"created_at":"2023-10-04T14:19:20-07:00","updated_at":"2023-10-04T14:19:20-07:00","alt":null,"width":1200,"height":1200,"src":"\/\/www.revolutionpowersports.ca\/cdn\/shop\/products\/F01004300-XXX-302.02_f21f2f37-4dd0-4f66-a1ca-d55f4ddfeb9a.jpg?v=1696454360","variant_ids":[43429091541224,43429091573992,43429091606760,43429091639528,43429091672296,43429091705064]},"available":true,"name":"509 Delta R4 Ignite Helmet - Emerald \/ LG","public_title":"Emerald \/ LG","options":["Emerald","LG"],"price":48449,"weight":0,"compare_at_price":56999,"inventory_management":"shopify","barcode":"843614180276","featured_media":{"alt":null,"id":34362960216296,"position":3,"preview_image":{"aspect_ratio":1.0,"height":1200,"width":1200,"src":"\/\/www.revolutionpowersports.ca\/cdn\/shop\/products\/F01004300-XXX-302.02_f21f2f37-4dd0-4f66-a1ca-d55f4ddfeb9a.jpg?v=1696454360"}},"requires_selling_plan":false,"selling_plan_allocations":[]},{"id":43429091672296,"title":"Emerald \/ XL","option1":"Emerald","option2":"XL","option3":null,"sku":"F01004300-150-302","requires_shipping":true,"taxable":true,"featured_image":{"id":41751289495784,"product_id":5754613989539,"position":3,"created_at":"2023-10-04T14:19:20-07:00","updated_at":"2023-10-04T14:19:20-07:00","alt":null,"width":1200,"height":1200,"src":"\/\/www.revolutionpowersports.ca\/cdn\/shop\/products\/F01004300-XXX-302.02_f21f2f37-4dd0-4f66-a1ca-d55f4ddfeb9a.jpg?v=1696454360","variant_ids":[43429091541224,43429091573992,43429091606760,43429091639528,43429091672296,43429091705064]},"available":true,"name":"509 Delta R4 Ignite Helmet - Emerald \/ XL","public_title":"Emerald \/ XL","options":["Emerald","XL"],"price":48449,"weight":0,"compare_at_price":56999,"inventory_management":"shopify","barcode":"843614180269","featured_media":{"alt":null,"id":34362960216296,"position":3,"preview_image":{"aspect_ratio":1.0,"height":1200,"width":1200,"src":"\/\/www.revolutionpowersports.ca\/cdn\/shop\/products\/F01004300-XXX-302.02_f21f2f37-4dd0-4f66-a1ca-d55f4ddfeb9a.jpg?v=1696454360"}},"requires_selling_plan":false,"selling_plan_allocations":[]},{"id":43429091705064,"title":"Emerald \/ 2XL","option1":"Emerald","option2":"2XL","option3":null,"sku":"F01004300-160-302","requires_shipping":true,"taxable":true,"featured_image":{"id":41751289495784,"product_id":5754613989539,"position":3,"created_at":"2023-10-04T14:19:20-07:00","updated_at":"2023-10-04T14:19:20-07:00","alt":null,"width":1200,"height":1200,"src":"\/\/www.revolutionpowersports.ca\/cdn\/shop\/products\/F01004300-XXX-302.02_f21f2f37-4dd0-4f66-a1ca-d55f4ddfeb9a.jpg?v=1696454360","variant_ids":[43429091541224,43429091573992,43429091606760,43429091639528,43429091672296,43429091705064]},"available":true,"name":"509 Delta R4 Ignite Helmet - Emerald \/ 2XL","public_title":"Emerald \/ 2XL","options":["Emerald","2XL"],"price":48449,"weight":0,"compare_at_price":56999,"inventory_management":"shopify","barcode":"843614180252","featured_media":{"alt":null,"id":34362960216296,"position":3,"preview_image":{"aspect_ratio":1.0,"height":1200,"width":1200,"src":"\/\/www.revolutionpowersports.ca\/cdn\/shop\/products\/F01004300-XXX-302.02_f21f2f37-4dd0-4f66-a1ca-d55f4ddfeb9a.jpg?v=1696454360"}},"requires_selling_plan":false,"selling_plan_allocations":[]},{"id":44113491951848,"title":"Black Aura \/ XS","option1":"Black Aura","option2":"XS","option3":null,"sku":"F01004300-110-004","requires_shipping":true,"taxable":true,"featured_image":{"id":41751289594088,"product_id":5754613989539,"position":5,"created_at":"2023-10-04T14:19:20-07:00","updated_at":"2023-10-04T14:19:20-07:00","alt":null,"width":1200,"height":1200,"src":"\/\/www.revolutionpowersports.ca\/cdn\/shop\/products\/F01004300-XXX-004_b2b835cc-02a7-4686-8142-0cf0d2e89024.png?v=1696454360","variant_ids":[44113491951848,44113491984616,44113492017384,44113492082920,44113492115688,44113492148456]},"available":false,"name":"509 Delta R4 Ignite Helmet - Black Aura \/ XS","public_title":"Black Aura \/ XS","options":["Black Aura","XS"],"price":56999,"weight":0,"compare_at_price":0,"inventory_management":"shopify","barcode":"-","featured_media":{"alt":null,"id":34362960281832,"position":5,"preview_image":{"aspect_ratio":1.0,"height":1200,"width":1200,"src":"\/\/www.revolutionpowersports.ca\/cdn\/shop\/products\/F01004300-XXX-004_b2b835cc-02a7-4686-8142-0cf0d2e89024.png?v=1696454360"}},"requires_selling_plan":false,"selling_plan_allocations":[]},{"id":44113491984616,"title":"Black Aura \/ SM","option1":"Black Aura","option2":"SM","option3":null,"sku":"F01004300-120-004","requires_shipping":true,"taxable":true,"featured_image":{"id":41751289594088,"product_id":5754613989539,"position":5,"created_at":"2023-10-04T14:19:20-07:00","updated_at":"2023-10-04T14:19:20-07:00","alt":null,"width":1200,"height":1200,"src":"\/\/www.revolutionpowersports.ca\/cdn\/shop\/products\/F01004300-XXX-004_b2b835cc-02a7-4686-8142-0cf0d2e89024.png?v=1696454360","variant_ids":[44113491951848,44113491984616,44113492017384,44113492082920,44113492115688,44113492148456]},"available":true,"name":"509 Delta R4 Ignite Helmet - Black Aura \/ SM","public_title":"Black Aura \/ SM","options":["Black Aura","SM"],"price":56999,"weight":0,"compare_at_price":0,"inventory_management":"shopify","barcode":"840324900736","featured_media":{"alt":null,"id":34362960281832,"position":5,"preview_image":{"aspect_ratio":1.0,"height":1200,"width":1200,"src":"\/\/www.revolutionpowersports.ca\/cdn\/shop\/products\/F01004300-XXX-004_b2b835cc-02a7-4686-8142-0cf0d2e89024.png?v=1696454360"}},"requires_selling_plan":false,"selling_plan_allocations":[]},{"id":44113492017384,"title":"Black Aura \/ MD","option1":"Black Aura","option2":"MD","option3":null,"sku":"F01004300-130-004","requires_shipping":true,"taxable":true,"featured_image":{"id":41751289594088,"product_id":5754613989539,"position":5,"created_at":"2023-10-04T14:19:20-07:00","updated_at":"2023-10-04T14:19:20-07:00","alt":null,"width":1200,"height":1200,"src":"\/\/www.revolutionpowersports.ca\/cdn\/shop\/products\/F01004300-XXX-004_b2b835cc-02a7-4686-8142-0cf0d2e89024.png?v=1696454360","variant_ids":[44113491951848,44113491984616,44113492017384,44113492082920,44113492115688,44113492148456]},"available":true,"name":"509 Delta R4 Ignite Helmet - Black Aura \/ MD","public_title":"Black Aura \/ MD","options":["Black Aura","MD"],"price":56999,"weight":0,"compare_at_price":0,"inventory_management":"shopify","barcode":"840324900620","featured_media":{"alt":null,"id":34362960281832,"position":5,"preview_image":{"aspect_ratio":1.0,"height":1200,"width":1200,"src":"\/\/www.revolutionpowersports.ca\/cdn\/shop\/products\/F01004300-XXX-004_b2b835cc-02a7-4686-8142-0cf0d2e89024.png?v=1696454360"}},"requires_selling_plan":false,"selling_plan_allocations":[]},{"id":44113492082920,"title":"Black Aura \/ LG","option1":"Black Aura","option2":"LG","option3":null,"sku":"F01004300-140-004","requires_shipping":true,"taxable":true,"featured_image":{"id":41751289594088,"product_id":5754613989539,"position":5,"created_at":"2023-10-04T14:19:20-07:00","updated_at":"2023-10-04T14:19:20-07:00","alt":null,"width":1200,"height":1200,"src":"\/\/www.revolutionpowersports.ca\/cdn\/shop\/products\/F01004300-XXX-004_b2b835cc-02a7-4686-8142-0cf0d2e89024.png?v=1696454360","variant_ids":[44113491951848,44113491984616,44113492017384,44113492082920,44113492115688,44113492148456]},"available":true,"name":"509 Delta R4 Ignite Helmet - Black Aura \/ LG","public_title":"Black Aura \/ LG","options":["Black Aura","LG"],"price":56999,"weight":0,"compare_at_price":0,"inventory_management":"shopify","barcode":"840324900668","featured_media":{"alt":null,"id":34362960281832,"position":5,"preview_image":{"aspect_ratio":1.0,"height":1200,"width":1200,"src":"\/\/www.revolutionpowersports.ca\/cdn\/shop\/products\/F01004300-XXX-004_b2b835cc-02a7-4686-8142-0cf0d2e89024.png?v=1696454360"}},"requires_selling_plan":false,"selling_plan_allocations":[]},{"id":44113492115688,"title":"Black Aura \/ XL","option1":"Black Aura","option2":"XL","option3":null,"sku":"F01004300-150-004","requires_shipping":true,"taxable":true,"featured_image":{"id":41751289594088,"product_id":5754613989539,"position":5,"created_at":"2023-10-04T14:19:20-07:00","updated_at":"2023-10-04T14:19:20-07:00","alt":null,"width":1200,"height":1200,"src":"\/\/www.revolutionpowersports.ca\/cdn\/shop\/products\/F01004300-XXX-004_b2b835cc-02a7-4686-8142-0cf0d2e89024.png?v=1696454360","variant_ids":[44113491951848,44113491984616,44113492017384,44113492082920,44113492115688,44113492148456]},"available":true,"name":"509 Delta R4 Ignite Helmet - Black Aura \/ XL","public_title":"Black Aura \/ XL","options":["Black Aura","XL"],"price":56999,"weight":0,"compare_at_price":0,"inventory_management":"shopify","barcode":"840324900637","featured_media":{"alt":null,"id":34362960281832,"position":5,"preview_image":{"aspect_ratio":1.0,"height":1200,"width":1200,"src":"\/\/www.revolutionpowersports.ca\/cdn\/shop\/products\/F01004300-XXX-004_b2b835cc-02a7-4686-8142-0cf0d2e89024.png?v=1696454360"}},"requires_selling_plan":false,"selling_plan_allocations":[]},{"id":44113492148456,"title":"Black Aura \/ 2XL","option1":"Black Aura","option2":"2XL","option3":null,"sku":"F01004300-160-004","requires_shipping":true,"taxable":true,"featured_image":{"id":41751289594088,"product_id":5754613989539,"position":5,"created_at":"2023-10-04T14:19:20-07:00","updated_at":"2023-10-04T14:19:20-07:00","alt":null,"width":1200,"height":1200,"src":"\/\/www.revolutionpowersports.ca\/cdn\/shop\/products\/F01004300-XXX-004_b2b835cc-02a7-4686-8142-0cf0d2e89024.png?v=1696454360","variant_ids":[44113491951848,44113491984616,44113492017384,44113492082920,44113492115688,44113492148456]},"available":true,"name":"509 Delta R4 Ignite Helmet - Black Aura \/ 2XL","public_title":"Black Aura \/ 2XL","options":["Black Aura","2XL"],"price":56999,"weight":0,"compare_at_price":0,"inventory_management":"shopify","barcode":"840324900682","featured_media":{"alt":null,"id":34362960281832,"position":5,"preview_image":{"aspect_ratio":1.0,"height":1200,"width":1200,"src":"\/\/www.revolutionpowersports.ca\/cdn\/shop\/products\/F01004300-XXX-004_b2b835cc-02a7-4686-8142-0cf0d2e89024.png?v=1696454360"}},"requires_selling_plan":false,"selling_plan_allocations":[]},{"id":44563182911720,"title":"Storm Chaser \/ XS","option1":"Storm Chaser","option2":"XS","option3":null,"sku":"F01004300-110-802","requires_shipping":true,"taxable":true,"featured_image":{"id":41751289626856,"product_id":5754613989539,"position":6,"created_at":"2023-10-04T14:19:20-07:00","updated_at":"2023-10-04T14:19:20-07:00","alt":null,"width":1200,"height":1200,"src":"\/\/www.revolutionpowersports.ca\/cdn\/shop\/products\/F01004300-XXX-802_0efcadd7-21b7-4298-8e8f-f97aafe43742.png?v=1696454360","variant_ids":[44563182911720,44563182944488,44563182977256,44563183010024,44563183042792,44563183075560]},"available":false,"name":"509 Delta R4 Ignite Helmet - Storm Chaser \/ XS","public_title":"Storm Chaser \/ XS","options":["Storm Chaser","XS"],"price":56999,"weight":0,"compare_at_price":0,"inventory_management":"shopify","barcode":"840324900712","featured_media":{"alt":null,"id":34362960314600,"position":6,"preview_image":{"aspect_ratio":1.0,"height":1200,"width":1200,"src":"\/\/www.revolutionpowersports.ca\/cdn\/shop\/products\/F01004300-XXX-802_0efcadd7-21b7-4298-8e8f-f97aafe43742.png?v=1696454360"}},"requires_selling_plan":false,"selling_plan_allocations":[]},{"id":44563182944488,"title":"Storm Chaser \/ SM","option1":"Storm Chaser","option2":"SM","option3":null,"sku":"F01004300-120-802","requires_shipping":true,"taxable":true,"featured_image":{"id":41751289626856,"product_id":5754613989539,"position":6,"created_at":"2023-10-04T14:19:20-07:00","updated_at":"2023-10-04T14:19:20-07:00","alt":null,"width":1200,"height":1200,"src":"\/\/www.revolutionpowersports.ca\/cdn\/shop\/products\/F01004300-XXX-802_0efcadd7-21b7-4298-8e8f-f97aafe43742.png?v=1696454360","variant_ids":[44563182911720,44563182944488,44563182977256,44563183010024,44563183042792,44563183075560]},"available":true,"name":"509 Delta R4 Ignite Helmet - Storm Chaser \/ SM","public_title":"Storm Chaser \/ SM","options":["Storm Chaser","SM"],"price":56999,"weight":0,"compare_at_price":0,"inventory_management":"shopify","barcode":"840324900651","featured_media":{"alt":null,"id":34362960314600,"position":6,"preview_image":{"aspect_ratio":1.0,"height":1200,"width":1200,"src":"\/\/www.revolutionpowersports.ca\/cdn\/shop\/products\/F01004300-XXX-802_0efcadd7-21b7-4298-8e8f-f97aafe43742.png?v=1696454360"}},"requires_selling_plan":false,"selling_plan_allocations":[]},{"id":44563182977256,"title":"Storm Chaser \/ MD","option1":"Storm Chaser","option2":"MD","option3":null,"sku":"F01004300-130-802","requires_shipping":true,"taxable":true,"featured_image":{"id":41751289626856,"product_id":5754613989539,"position":6,"created_at":"2023-10-04T14:19:20-07:00","updated_at":"2023-10-04T14:19:20-07:00","alt":null,"width":1200,"height":1200,"src":"\/\/www.revolutionpowersports.ca\/cdn\/shop\/products\/F01004300-XXX-802_0efcadd7-21b7-4298-8e8f-f97aafe43742.png?v=1696454360","variant_ids":[44563182911720,44563182944488,44563182977256,44563183010024,44563183042792,44563183075560]},"available":true,"name":"509 Delta R4 Ignite Helmet - Storm Chaser \/ MD","public_title":"Storm Chaser \/ MD","options":["Storm Chaser","MD"],"price":56999,"weight":0,"compare_at_price":0,"inventory_management":"shopify","barcode":"840324900644","featured_media":{"alt":null,"id":34362960314600,"position":6,"preview_image":{"aspect_ratio":1.0,"height":1200,"width":1200,"src":"\/\/www.revolutionpowersports.ca\/cdn\/shop\/products\/F01004300-XXX-802_0efcadd7-21b7-4298-8e8f-f97aafe43742.png?v=1696454360"}},"requires_selling_plan":false,"selling_plan_allocations":[]},{"id":44563183010024,"title":"Storm Chaser \/ LG","option1":"Storm Chaser","option2":"LG","option3":null,"sku":"F01004300-140-802","requires_shipping":true,"taxable":true,"featured_image":{"id":41751289626856,"product_id":5754613989539,"position":6,"created_at":"2023-10-04T14:19:20-07:00","updated_at":"2023-10-04T14:19:20-07:00","alt":null,"width":1200,"height":1200,"src":"\/\/www.revolutionpowersports.ca\/cdn\/shop\/products\/F01004300-XXX-802_0efcadd7-21b7-4298-8e8f-f97aafe43742.png?v=1696454360","variant_ids":[44563182911720,44563182944488,44563182977256,44563183010024,44563183042792,44563183075560]},"available":true,"name":"509 Delta R4 Ignite Helmet - Storm Chaser \/ LG","public_title":"Storm Chaser \/ LG","options":["Storm Chaser","LG"],"price":56999,"weight":0,"compare_at_price":0,"inventory_management":"shopify","barcode":"840324900705","featured_media":{"alt":null,"id":34362960314600,"position":6,"preview_image":{"aspect_ratio":1.0,"height":1200,"width":1200,"src":"\/\/www.revolutionpowersports.ca\/cdn\/shop\/products\/F01004300-XXX-802_0efcadd7-21b7-4298-8e8f-f97aafe43742.png?v=1696454360"}},"requires_selling_plan":false,"selling_plan_allocations":[]},{"id":44563183042792,"title":"Storm Chaser \/ XL","option1":"Storm Chaser","option2":"XL","option3":null,"sku":"F01004300-150-802","requires_shipping":true,"taxable":true,"featured_image":{"id":41751289626856,"product_id":5754613989539,"position":6,"created_at":"2023-10-04T14:19:20-07:00","updated_at":"2023-10-04T14:19:20-07:00","alt":null,"width":1200,"height":1200,"src":"\/\/www.revolutionpowersports.ca\/cdn\/shop\/products\/F01004300-XXX-802_0efcadd7-21b7-4298-8e8f-f97aafe43742.png?v=1696454360","variant_ids":[44563182911720,44563182944488,44563182977256,44563183010024,44563183042792,44563183075560]},"available":true,"name":"509 Delta R4 Ignite Helmet - Storm Chaser \/ XL","public_title":"Storm Chaser \/ XL","options":["Storm Chaser","XL"],"price":56999,"weight":0,"compare_at_price":0,"inventory_management":"shopify","barcode":"840324900699","featured_media":{"alt":null,"id":34362960314600,"position":6,"preview_image":{"aspect_ratio":1.0,"height":1200,"width":1200,"src":"\/\/www.revolutionpowersports.ca\/cdn\/shop\/products\/F01004300-XXX-802_0efcadd7-21b7-4298-8e8f-f97aafe43742.png?v=1696454360"}},"requires_selling_plan":false,"selling_plan_allocations":[]},{"id":44563183075560,"title":"Storm Chaser \/ 2XL","option1":"Storm Chaser","option2":"2XL","option3":null,"sku":"F01004300-160-802","requires_shipping":true,"taxable":true,"featured_image":{"id":41751289626856,"product_id":5754613989539,"position":6,"created_at":"2023-10-04T14:19:20-07:00","updated_at":"2023-10-04T14:19:20-07:00","alt":null,"width":1200,"height":1200,"src":"\/\/www.revolutionpowersports.ca\/cdn\/shop\/products\/F01004300-XXX-802_0efcadd7-21b7-4298-8e8f-f97aafe43742.png?v=1696454360","variant_ids":[44563182911720,44563182944488,44563182977256,44563183010024,44563183042792,44563183075560]},"available":true,"name":"509 Delta R4 Ignite Helmet - Storm Chaser \/ 2XL","public_title":"Storm Chaser \/ 2XL","options":["Storm Chaser","2XL"],"price":56999,"weight":0,"compare_at_price":0,"inventory_management":"shopify","barcode":"840324900675","featured_media":{"alt":null,"id":34362960314600,"position":6,"preview_image":{"aspect_ratio":1.0,"height":1200,"width":1200,"src":"\/\/www.revolutionpowersports.ca\/cdn\/shop\/products\/F01004300-XXX-802_0efcadd7-21b7-4298-8e8f-f97aafe43742.png?v=1696454360"}},"requires_selling_plan":false,"selling_plan_allocations":[]},{"id":43429091737832,"title":"Matte Ops \/ XS","option1":"Matte Ops","option2":"XS","option3":null,"sku":"F01004300-110-003","requires_shipping":true,"taxable":true,"featured_image":{"id":41751289561320,"product_id":5754613989539,"position":4,"created_at":"2023-10-04T14:19:20-07:00","updated_at":"2023-10-04T14:19:20-07:00","alt":null,"width":1200,"height":1200,"src":"\/\/www.revolutionpowersports.ca\/cdn\/shop\/products\/F01004300-XXX-003.02_a8f52b8d-9959-4048-ba37-306b558fd461.jpg?v=1696454360","variant_ids":[43429091737832,43429091770600,43429091803368,43429091836136,43429091868904,43429091901672]},"available":true,"name":"509 Delta R4 Ignite Helmet - Matte Ops \/ XS","public_title":"Matte Ops \/ XS","options":["Matte Ops","XS"],"price":56999,"weight":0,"compare_at_price":0,"inventory_management":"shopify","barcode":"843614175715","featured_media":{"alt":null,"id":34362960249064,"position":4,"preview_image":{"aspect_ratio":1.0,"height":1200,"width":1200,"src":"\/\/www.revolutionpowersports.ca\/cdn\/shop\/products\/F01004300-XXX-003.02_a8f52b8d-9959-4048-ba37-306b558fd461.jpg?v=1696454360"}},"requires_selling_plan":false,"selling_plan_allocations":[]},{"id":43429091770600,"title":"Matte Ops \/ SM","option1":"Matte Ops","option2":"SM","option3":null,"sku":"F01004300-120-003","requires_shipping":true,"taxable":true,"featured_image":{"id":41751289561320,"product_id":5754613989539,"position":4,"created_at":"2023-10-04T14:19:20-07:00","updated_at":"2023-10-04T14:19:20-07:00","alt":null,"width":1200,"height":1200,"src":"\/\/www.revolutionpowersports.ca\/cdn\/shop\/products\/F01004300-XXX-003.02_a8f52b8d-9959-4048-ba37-306b558fd461.jpg?v=1696454360","variant_ids":[43429091737832,43429091770600,43429091803368,43429091836136,43429091868904,43429091901672]},"available":true,"name":"509 Delta R4 Ignite Helmet - Matte Ops \/ SM","public_title":"Matte Ops \/ SM","options":["Matte Ops","SM"],"price":56999,"weight":0,"compare_at_price":0,"inventory_management":"shopify","barcode":"843614175708","featured_media":{"alt":null,"id":34362960249064,"position":4,"preview_image":{"aspect_ratio":1.0,"height":1200,"width":1200,"src":"\/\/www.revolutionpowersports.ca\/cdn\/shop\/products\/F01004300-XXX-003.02_a8f52b8d-9959-4048-ba37-306b558fd461.jpg?v=1696454360"}},"requires_selling_plan":false,"selling_plan_allocations":[]},{"id":43429091803368,"title":"Matte Ops \/ MD","option1":"Matte Ops","option2":"MD","option3":null,"sku":"F01004300-130-003","requires_shipping":true,"taxable":true,"featured_image":{"id":41751289561320,"product_id":5754613989539,"position":4,"created_at":"2023-10-04T14:19:20-07:00","updated_at":"2023-10-04T14:19:20-07:00","alt":null,"width":1200,"height":1200,"src":"\/\/www.revolutionpowersports.ca\/cdn\/shop\/products\/F01004300-XXX-003.02_a8f52b8d-9959-4048-ba37-306b558fd461.jpg?v=1696454360","variant_ids":[43429091737832,43429091770600,43429091803368,43429091836136,43429091868904,43429091901672]},"available":true,"name":"509 Delta R4 Ignite Helmet - Matte Ops \/ MD","public_title":"Matte Ops \/ MD","options":["Matte Ops","MD"],"price":56999,"weight":0,"compare_at_price":0,"inventory_management":"shopify","barcode":"843614175692","featured_media":{"alt":null,"id":34362960249064,"position":4,"preview_image":{"aspect_ratio":1.0,"height":1200,"width":1200,"src":"\/\/www.revolutionpowersports.ca\/cdn\/shop\/products\/F01004300-XXX-003.02_a8f52b8d-9959-4048-ba37-306b558fd461.jpg?v=1696454360"}},"requires_selling_plan":false,"selling_plan_allocations":[]},{"id":43429091836136,"title":"Matte Ops \/ LG","option1":"Matte Ops","option2":"LG","option3":null,"sku":"F01004300-140-003","requires_shipping":true,"taxable":true,"featured_image":{"id":41751289561320,"product_id":5754613989539,"position":4,"created_at":"2023-10-04T14:19:20-07:00","updated_at":"2023-10-04T14:19:20-07:00","alt":null,"width":1200,"height":1200,"src":"\/\/www.revolutionpowersports.ca\/cdn\/shop\/products\/F01004300-XXX-003.02_a8f52b8d-9959-4048-ba37-306b558fd461.jpg?v=1696454360","variant_ids":[43429091737832,43429091770600,43429091803368,43429091836136,43429091868904,43429091901672]},"available":true,"name":"509 Delta R4 Ignite Helmet - Matte Ops \/ LG","public_title":"Matte Ops \/ LG","options":["Matte Ops","LG"],"price":56999,"weight":0,"compare_at_price":0,"inventory_management":"shopify","barcode":"843614175685","featured_media":{"alt":null,"id":34362960249064,"position":4,"preview_image":{"aspect_ratio":1.0,"height":1200,"width":1200,"src":"\/\/www.revolutionpowersports.ca\/cdn\/shop\/products\/F01004300-XXX-003.02_a8f52b8d-9959-4048-ba37-306b558fd461.jpg?v=1696454360"}},"requires_selling_plan":false,"selling_plan_allocations":[]},{"id":43429091868904,"title":"Matte Ops \/ XL","option1":"Matte Ops","option2":"XL","option3":null,"sku":"F01004300-150-003","requires_shipping":true,"taxable":true,"featured_image":{"id":41751289561320,"product_id":5754613989539,"position":4,"created_at":"2023-10-04T14:19:20-07:00","updated_at":"2023-10-04T14:19:20-07:00","alt":null,"width":1200,"height":1200,"src":"\/\/www.revolutionpowersports.ca\/cdn\/shop\/products\/F01004300-XXX-003.02_a8f52b8d-9959-4048-ba37-306b558fd461.jpg?v=1696454360","variant_ids":[43429091737832,43429091770600,43429091803368,43429091836136,43429091868904,43429091901672]},"available":true,"name":"509 Delta R4 Ignite Helmet - Matte Ops \/ XL","public_title":"Matte Ops \/ XL","options":["Matte Ops","XL"],"price":56999,"weight":0,"compare_at_price":0,"inventory_management":"shopify","barcode":"843614175678","featured_media":{"alt":null,"id":34362960249064,"position":4,"preview_image":{"aspect_ratio":1.0,"height":1200,"width":1200,"src":"\/\/www.revolutionpowersports.ca\/cdn\/shop\/products\/F01004300-XXX-003.02_a8f52b8d-9959-4048-ba37-306b558fd461.jpg?v=1696454360"}},"requires_selling_plan":false,"selling_plan_allocations":[]},{"id":43429091901672,"title":"Matte Ops \/ 2XL","option1":"Matte Ops","option2":"2XL","option3":null,"sku":"F01004300-160-003","requires_shipping":true,"taxable":true,"featured_image":{"id":41751289561320,"product_id":5754613989539,"position":4,"created_at":"2023-10-04T14:19:20-07:00","updated_at":"2023-10-04T14:19:20-07:00","alt":null,"width":1200,"height":1200,"src":"\/\/www.revolutionpowersports.ca\/cdn\/shop\/products\/F01004300-XXX-003.02_a8f52b8d-9959-4048-ba37-306b558fd461.jpg?v=1696454360","variant_ids":[43429091737832,43429091770600,43429091803368,43429091836136,43429091868904,43429091901672]},"available":true,"name":"509 Delta R4 Ignite Helmet - Matte Ops \/ 2XL","public_title":"Matte Ops \/ 2XL","options":["Matte Ops","2XL"],"price":56999,"weight":0,"compare_at_price":0,"inventory_management":"shopify","barcode":"843614175661","featured_media":{"alt":null,"id":34362960249064,"position":4,"preview_image":{"aspect_ratio":1.0,"height":1200,"width":1200,"src":"\/\/www.revolutionpowersports.ca\/cdn\/shop\/products\/F01004300-XXX-003.02_a8f52b8d-9959-4048-ba37-306b558fd461.jpg?v=1696454360"}},"requires_selling_plan":false,"selling_plan_allocations":[]}],"images":["\/\/www.revolutionpowersports.ca\/cdn\/shop\/products\/F01004300-XXX-005_02_460e17dc-4bdb-4972-980f-e9516955b7f7.jpg?v=1696454360","\/\/www.revolutionpowersports.ca\/cdn\/shop\/products\/F01004300-XXX-401.02_b4168371-e2e6-4b5d-833a-1f4c4333dcbb.jpg?v=1696454360","\/\/www.revolutionpowersports.ca\/cdn\/shop\/products\/F01004300-XXX-302.02_f21f2f37-4dd0-4f66-a1ca-d55f4ddfeb9a.jpg?v=1696454360","\/\/www.revolutionpowersports.ca\/cdn\/shop\/products\/F01004300-XXX-003.02_a8f52b8d-9959-4048-ba37-306b558fd461.jpg?v=1696454360","\/\/www.revolutionpowersports.ca\/cdn\/shop\/products\/F01004300-XXX-004_b2b835cc-02a7-4686-8142-0cf0d2e89024.png?v=1696454360","\/\/www.revolutionpowersports.ca\/cdn\/shop\/products\/F01004300-XXX-802_0efcadd7-21b7-4298-8e8f-f97aafe43742.png?v=1696454360"],"featured_image":"\/\/www.revolutionpowersports.ca\/cdn\/shop\/products\/F01004300-XXX-005_02_460e17dc-4bdb-4972-980f-e9516955b7f7.jpg?v=1696454360","options":["Colour","Size"],"media":[{"alt":null,"id":34362960150760,"position":1,"preview_image":{"aspect_ratio":1.0,"height":1200,"width":1200,"src":"\/\/www.revolutionpowersports.ca\/cdn\/shop\/products\/F01004300-XXX-005_02_460e17dc-4bdb-4972-980f-e9516955b7f7.jpg?v=1696454360"},"aspect_ratio":1.0,"height":1200,"media_type":"image","src":"\/\/www.revolutionpowersports.ca\/cdn\/shop\/products\/F01004300-XXX-005_02_460e17dc-4bdb-4972-980f-e9516955b7f7.jpg?v=1696454360","width":1200},{"alt":null,"id":34362960183528,"position":2,"preview_image":{"aspect_ratio":1.0,"height":1200,"width":1200,"src":"\/\/www.revolutionpowersports.ca\/cdn\/shop\/products\/F01004300-XXX-401.02_b4168371-e2e6-4b5d-833a-1f4c4333dcbb.jpg?v=1696454360"},"aspect_ratio":1.0,"height":1200,"media_type":"image","src":"\/\/www.revolutionpowersports.ca\/cdn\/shop\/products\/F01004300-XXX-401.02_b4168371-e2e6-4b5d-833a-1f4c4333dcbb.jpg?v=1696454360","width":1200},{"alt":null,"id":34362960216296,"position":3,"preview_image":{"aspect_ratio":1.0,"height":1200,"width":1200,"src":"\/\/www.revolutionpowersports.ca\/cdn\/shop\/products\/F01004300-XXX-302.02_f21f2f37-4dd0-4f66-a1ca-d55f4ddfeb9a.jpg?v=1696454360"},"aspect_ratio":1.0,"height":1200,"media_type":"image","src":"\/\/www.revolutionpowersports.ca\/cdn\/shop\/products\/F01004300-XXX-302.02_f21f2f37-4dd0-4f66-a1ca-d55f4ddfeb9a.jpg?v=1696454360","width":1200},{"alt":null,"id":34362960249064,"position":4,"preview_image":{"aspect_ratio":1.0,"height":1200,"width":1200,"src":"\/\/www.revolutionpowersports.ca\/cdn\/shop\/products\/F01004300-XXX-003.02_a8f52b8d-9959-4048-ba37-306b558fd461.jpg?v=1696454360"},"aspect_ratio":1.0,"height":1200,"media_type":"image","src":"\/\/www.revolutionpowersports.ca\/cdn\/shop\/products\/F01004300-XXX-003.02_a8f52b8d-9959-4048-ba37-306b558fd461.jpg?v=1696454360","width":1200},{"alt":null,"id":34362960281832,"position":5,"preview_image":{"aspect_ratio":1.0,"height":1200,"width":1200,"src":"\/\/www.revolutionpowersports.ca\/cdn\/shop\/products\/F01004300-XXX-004_b2b835cc-02a7-4686-8142-0cf0d2e89024.png?v=1696454360"},"aspect_ratio":1.0,"height":1200,"media_type":"image","src":"\/\/www.revolutionpowersports.ca\/cdn\/shop\/products\/F01004300-XXX-004_b2b835cc-02a7-4686-8142-0cf0d2e89024.png?v=1696454360","width":1200},{"alt":null,"id":34362960314600,"position":6,"preview_image":{"aspect_ratio":1.0,"height":1200,"width":1200,"src":"\/\/www.revolutionpowersports.ca\/cdn\/shop\/products\/F01004300-XXX-802_0efcadd7-21b7-4298-8e8f-f97aafe43742.png?v=1696454360"},"aspect_ratio":1.0,"height":1200,"media_type":"image","src":"\/\/www.revolutionpowersports.ca\/cdn\/shop\/products\/F01004300-XXX-802_0efcadd7-21b7-4298-8e8f-f97aafe43742.png?v=1696454360","width":1200}],"requires_selling_plan":false,"selling_plan_groups":[],"content":"\u003cp\u003eOur innovative new 509 Delta R4 Ignite Heated Shield Snowmobile Helmet sets the new standard for modular flip-up face shield performance with Ignite dual pane heating technology for clear, ice- and fog-free vision in sub-zero conditions. The sunshield is oversized for maximum field of view and flips up instantly with the push of a glove-friendly button. Built for maximum warmth and convenience, the helmet's long list of features includes climate control venting and the glove-friendly Fidlock® magnetic strap buckle.\u003c\/p\u003e\n\u003ch3\u003e509 DELTA R4 IGNITE HELMET FEATURES\u003c\/h3\u003e\n\u003cul\u003e\n\u003cli\u003eIgnite dual pane heated shield for fog free performance\u003c\/li\u003e\n\u003cli\u003eDOT\/ECE dual certified helmet shell\u003c\/li\u003e\n\u003cli\u003ePoly Alloy Shell construction for durable quality\u003c\/li\u003e\n\u003cli\u003e2 shell sizes, and Dual Density EPS for optimal fit\u003c\/li\u003e\n\u003cli\u003ePremium Liner for a comfortable and quiet fit\u003c\/li\u003e\n\u003cli\u003eCustom liner kits available for a fine-tuned fit\u003c\/li\u003e\n\u003cli\u003eClimate control Ventilation system with two stage front chin vent, adjustable forehead vents, and exhaust vents.\u003c\/li\u003e\n\u003cli\u003eArctic Chin Curtain and 509 breath box comes standard\u003c\/li\u003e\n\u003cli\u003eSmoke tinted sunshield drops down with Sunshield Trigger\u003c\/li\u003e\n\u003cli\u003eFidlock chin strap closure\u003c\/li\u003e\n\u003cli\u003eQuarter turn cable included\u003c\/li\u003e\n\u003cli\u003eDOT\/ECE helmet from 1900 grams\u003c\/li\u003e\n\u003c\/ul\u003e\n\u003cp\u003e\u003ca href=\"https:\/\/cdn.shopify.com\/s\/files\/1\/0317\/2194\/7271\/files\/CopyofYou_regoingtoLOVEthefit.Tryitonandexperienceourperfectfit.Ifyoudon_tloveit_senditbackinnewandunusedconditionwithin30daysforanexchangeorfullrefund.Riskfree.Not_4.png?v=1691095130\" target=\"_blank\" data-mce-href=\"https:\/\/cdn.shopify.com\/s\/files\/1\/0317\/2194\/7271\/files\/CopyofYou_regoingtoLOVEthefit.Tryitonandexperienceourperfectfit.Ifyoudon_tloveit_senditbackinnewandunusedconditionwithin30daysforanexchangeorfullrefund.Riskfree.Not_4.png?v=1691095130\"\u003eClick here for the Sizing Chart\u003c\/a\u003e\u003c\/p\u003e"}